Wade Swikle, M.S.
President
Wade is a 2 time graduate from the University of Florida, with a Master's Degree in Entrepreneurship (but he likes to refer to it as his Master's Degree in Moving). Wade hosts the Grow Your Moving Company Podcast as well as Moving Titan Retreats, where he regularly learns from the best in the business on how to provide the ultimate experience for clients as well as educating other movers on how to do the same. As a former baseball player, Wade is Considered a 'semi professional' Wiffle-ball player, competing in tournaments around the state.
Ashley Gervasio
Chief of Raving Fans & Director of Talent
Ashley joined the 2 College Brothers team after working with JW Marriott International and Premier Sotheby's International Realty. Ashley is in charge of facilitating a world-class experience for our clients and team members alike. She manages our team-wide customer service training, recruits top-notch talent and does anything and everything to fulfill our mission of creating raving fans on every move. A raving fan herself of all things nature, Ashley enjoys spending her spare time outdoors and with her animals.
Faith Larkin
Director of Marketing & Employee Relations
Faith joined our Gainesville location in 2019 as an Office Manager & CEO Assistant, climbing the ladder to Dispatch & Operations Manager for both Tampa and Gainesville locations as well as helping out our moving consulting team. In 2020 she was relocated to our Tampa headquarters as Moving Consultant & On-Site Estimator. In 2021, She became our Director of Marketing! Faith loves representing 2 College Brothers Moving and being a big part of our growing moving company!
Jeff Allison
General Manager
Jeff has been involved in the moving and storage business for several decades. He started as a helper as a teenager working at his uncles moving company. He has owned his own moving business and has pretty much "done it all" from being an owner/operator, sales manager, and General Manager for major van lines and local companies. In his spare time, you can catch Jeff camping with his wife and enjoying spending time with his kids and grandkids.
Jordan Buck
Gainesville Operations Manager
Jordan worked for a competing moving franchise for 3 years before coming on board 2 College Brothers in 2019 as the Tampa branch operations manager where he served our company for two years. In 2021, Jordan transitioned to moving consultant so he could better serve clients in both locations and relocated to Gainesville in 2022 to lead operations at our first location. Jordan is an avid Pittsburgh Pirates fan and dog-dad to Rocky. He also enjoys fishing in his spare time.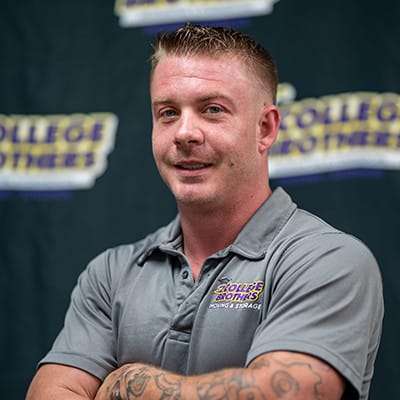 Brandon Zimmerman
Tampa Operations Manager
In 2012 Brandon started his moving career in logistics, coordinating transport of finished goods for a supplement company. In 2016 he moved to the residential side of moving as a helper and quickly climbed the ladder to crew leader! Brandon joined 2 College Brothers in 2022 as a Crew Leader and is now our Assistant Operations Manager! In his free time he enjoys working out and going to the beach!
Jay Dempsey
Lead Moving Consultant
Jay started as a mover with our Gainesville branch while studying at the University of Florida in 2019. In 2020 Jay was relocated to our Tampa Headquarters and is now our lead Moving Consultant! In 2021, Jay hit an individual goal of $1 million in booked jobs in just one year! Guided by his faith, Jay coordinates the best possible solutions for clients' upcoming moves.
Brett Ernenwein
Senior Moving Consultant
Brett has been in the Moving & Storage for the last 15 years. After learning the craft of packing, loading, driving and specialty services, he became a Lead Estimator for Commercial Relocation & Proest Management.  For the last 10 years he has added household moving, estimating and project management to his skill set and became the Senior Moving Consultant at 2 College Brothers Moving.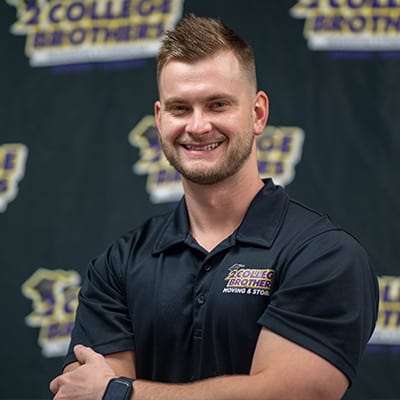 Christian Hoyle
Moving Consultant
Christian is a Florida native from Plant City! He has 7 years in the moving industry, with broad experience in sales, crew leadership, and general management. He is now one of our many Moving Consultants at our Tampa location! On his days off he enjoys being outdoors and spending time with his fiance!