Located on the Gulf Coast in Florida, St. Petersburg is a beautiful town that many people flock to. Home to 265,100 people, there is always something to do, whether it be go to the beach or shop. Because it's such a populated area, there are tons of neighborhoods to choose from. But if you're looking for the best St. Petersburg suburb, how do you decide?
You can spend hours researching all the different areas of St. Petersburg, but this is time consuming and often confusing! So, we did the work for you. When you're trying to decide where you should live in St. Petersburg, wonder no further. Keep reading for our list of the best St. Petersburg neighborhoods.
Which St. Petersburg Neighborhoods are the Best?
Historic Roser Park is one of the best St. Petersburg neighborhoods that you can find. In fact, many people go through this area just to see it as tourists. Unique with tree lined brick streets, most people have never seen a neighborhood like it. Though it's incredibly close to the ocean, you'll feel like you've gone to a different world. There are many green spaces, water going through parts of the neighborhood, and a wide variety of homes that range in classic American architecture to craftsman style.
Most people living here are older professionals with families. The median home price is $489,000, and it can be hard to find a home for sale because they go so quickly.
GET CONNECTED TO A LOCAL REAL ESTATE PROFESSIONAL
Historic Kenwood – Artsy feel and brick streets in St. Petersburg
Once upon a time, Historic Kenwood was a St Petersburg suburb that was falling apart. No one wanted to live there. But now, it's one of the trendiest places to live. Known for brick streets without the price tag that often comes with Roser Park, Kenwood is a great alternative for young families and professionals. The homes are a bit smaller, and there are also many artists who live there. It's a more diverse neighborhood that's incredibly safe.
There are a lot of restaurants and clubs nearby, and Kenwood is one of the best gay-friendly neighborhoods in St. Petersburg. This suburb is perfect for couples who want to live in a diverse area that's close to many destinations. Plus, the LGBT Welcome Center is nearby too!
Grand Central District is predominately gay, so if you want to live in an artsy downtown-feel neighborhood, this is the one for you. There are apartments and condos above the local businesses, so it can be a bit difficult to find openings. However, if you do, it's a close knit community that is always willing to welcome you. What's great about this St. Petersburg suburb is less busy and crowded than Downtown. There aren't as many financial businesses and companies of that like, but there are plenty of mom and pop shops, art galleries, and delicious restaurants.
This isn't the best area for kids and families. It is a lot of young, hip people looking to have fun in their twenties and thirties. You also won't find many older professionals here either. It's definitely one of the hippest neighborhoods in St. Petersburg, and most people living here are new to the town.
Boca Ciega – St. Petersburg beach living neighborhood
Boca Ciega Bay is home to a few different St. Petersburg neighborhoods, and it's also home to The Fountains at Boca Ciega Bay, which is a retirement community. This is a safe and affluent area where many people come to live right on the water. Most of the people living here will rent condos and apartments, but there are a few homes in the area as well. You'll find that this area is a bit older, probably due to the retirement community nearby.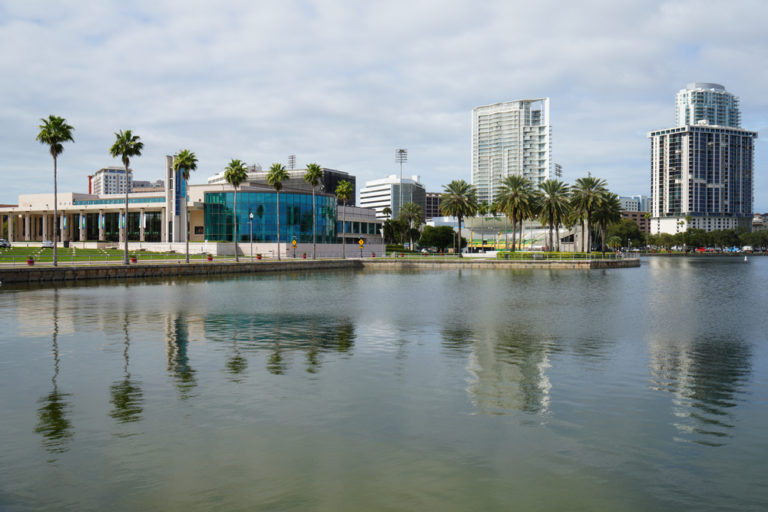 There are also a few different resorts that many tourists come to, so it's definitely a beach-style city. You'll find that people live a slower paced lifestyle, and truthfully, many people don't leave more than once a week to grab groceries. If you want to feel like you're on vacation all year long, Boca Ciega is the place to be.
Bayou Shores – Affordable water living
Bayou Shores is affordable water living. It borders Lake Maggiore and Big Bayou, and people who have lived in this gorgeous St. Petersburg say that they often see gorgeous dolphins and other sea animals swimming outside of their window. Most waterfront properties are extremely pricey, but this is one of the most affordable waterfront neighborhoods in St. Petersburg. You can expect mostly condos and apartments in around the $200,000 range.
There are also a lot of people renting in this area. It's mostly young professionals who want vacation-style living. It's close to Downtown and other offices, so it's great for commuting as well. You won't find as many kids and families in this area, but it's great for single adults.
If you want to make yourself a part of any of these communities, you should check out the latest listings for homes for sale in Largo, FL or let us introduce you to a local agent in the area.
Coquina Key – Affluent beachfront living in St. Petersburg
What's interesting about St. Petersburg is that the southeast part can sometimes be riddled with crime. However, Coquina Key is a haven from all of that. Though you will have to drive through some high crime areas to get to this St. Petersburg suburb, you will not see much crime in this area at all. In fact, it's known for being a safe community that many people rent in. There are plenty of vacation condos and apartments, but there are also people who live there full time as well. The median home price is $200,000.
This area sits right on the water, and most of the properties are pretty expensive. Because of this, you'll find many retired people living here, and it's a bit of an older neighborhood. However, during the busy tourist season, you'll find many families renting the vacation properties.
If you want true city living, Downtown is the St. Petersburg neighborhood for you. There is plenty to do, a lot to see, and it's always pretty busy! One of the downsides to living Downtown is that there are a lot of people moving through the city. Between the morning and evening commutes, there is a ton of traffic. Add in tourists too, and it can take hours to get to where you need to be. However, if you're living there and work in the city, your commute is so easy!
It's not the safest neighborhood in St. Petersburg, but it's still very popular. You'll find that most people living here are very young. There aren't too many couples, families, or kids in this area. Whie you do have a few homes here and there, most of the people living here live in apartments.
Tropical Shores – Affluent and safe living in St. Pete
Tropical Shores is a small St. Petersburg suburb that is very popular for families and kids. There are only a few streets in this area, and most of the homes are bordering water. The majority of people have access to boat slips, so this is the perfect spot for people who love adventure and the outdoors, while also having access to good schools. The homes don't go for sale very often, but when they do, you can expect them to be in the $400,000 range.
The great thing about this St. Petersburg area is that it's very safe. The crime is low, and you can feel safe having children and a family in this area.
"*" indicates required fields
Looking For A New Home In The Area? Let Us Connect You With A Local Real Estate Professional.
We know a little about moving. A successful move starts early, having the right Real Estate team makes a big difference.
St. Petersburg Neighborhood Map
St. Petersburg has plenty of amazing neighborhoods to live in, and these St. Petersburg suburbs are some of the best there. If you're looking at these areas because you're planning a move, give 2 College Brothers a call. We're your local St. Petersburg moving company that can help you relocate everything you need!