Welcome to the city that has it all! From relaxing beaches and beautiful hiking, Busch Gardens amusement park, to a bustling downtown with non-stop events, Tampa is the perfect city that has something for everyone.
While it is often mentioned among the top vacation spots in the United States, the city of Tampa also offers some of the most comfortable living conditions. Among the 20 safest cities in Florida, local residents enjoy quiet lifestyles, envious weather, and a wide variety of exciting local activities.
Once you've decided that you're moving to this awesome city, the next step will be looking through the best neighborhoods in Tampa and deciding which one is right for you. With places downtown, along the bay, and on the outskirts of the city, you're sure to find a good fit. Take a look at the list below and learn all the details you need to know as you choose from the best Tampa neighborhoods.
Population: 1,453
Median Household Income: $35,300
Median Home Listing Price: $498,900
 What makes Downtown Tampa one of the best neighborhoods?
At the top of Hillsborough Bay, downtown is one of the most popular neighborhoods in Tampa for both living and finding fun local activities. Why have to commute to the city for work or entertainment when you can live in it?
While it is mainly commercial space, people who want to live there will find a handful of downtown Tampa housing options that include apartments, condos, and a few homes along the outer edges of town.
Centrally located, downtown is arguably the most amenity-packed area in Tampa with amazing places like the David A. Straz, Jr. Center for the Performing Arts, a 4,327-seat theatre where you can catch shows, dances, and classy opera concerts. Built in 1995, the Florida Aquarium is one of the most popular places in downtown Tampa, housing over 14,000 unique marine animals. The Tampa Convention Center can also be found downtown and stands as a hub for numerous events all year long.
The modern downtown energy is perfect for college students and young professionals, but you can find people of all age groups soaking in the fun downtown. You will be close to all the action, including Curtis Hixon Waterfront Park where the city's most popular events are held, including Gasparilla. Make sure to check out events in Tampa to get an idea of all the great things happening. Living downtown most likely means you will be renting an apartment, but there is no short of them.
Unlike many other big cities, Tampa has a lot of outdoor living. With many waterfront accesses and green spaces, you will be able to enjoy the outdoors year-round. Even though it is a city, you will find that you can bring your dog virtually everywhere with you. With tons of outdoor eating, outdoor green spaces, and dog-friendly activities and parks, Tampa is also one of the most dog-friendly big cities you can find. 
Note: there is downtown Tampa, but there is also Uptown Tampa. Uptown Tampa is also a great neighborhood to live for young adults. It is more of an up and coming neighborhood located next to USF. Although not as build up as downtown, uptown has a promising future and buying there might make a great investment for the future. 
GET CONNECTED TO A LOCAL REAL ESTATE PROFESSIONAL
2. Palma Ceia – Safest Among Tampa Neighborhoods
Population: 4,519
Median Household Income: $119,100
Median Home Listing Price: $762,500
What makes Palma Ceia one of Tampa's best neighborhoods?
As one of the most exclusive and best neighborhoods in Tampa, the community of Palma Ceia is also the safest you'll find across the city. Boasting a low crime rate, people living in Palma Ceia enjoy peace of mind both in their homes and outside. And while the median home price is fairly high in this community, people interested in moving to Palma Ceia will be able to find homes closer to the range of $300,000 as well. Plant High, Tampa's top high school, is located in the northwest corner of the area.
Home to the classy Palma Ceia Golf & Country Club and its own community park, this gorgeous Tampa neighborhood also offers other amenities and great views from the western side of Hillsborough Bay.
Also, if you are looking for an upscale, trendy neighborhood that is close to all things food, then Palma Ceia is for you. There is everything from authentic Italian to American steakhouses. Some of the best places to eat in Palma Ceia include Datz, Osteria Natalina, and Yoko's Japanese Restaurant. If you want to eat in, you also have plenty of different grocery stores to choose from. Of course, there are the national chains, but there are also local gourmet grocery stores. Two of the most popular are Joe and Son's Olive Oils and The Healthy Dose Organics.
On top of food, you will also be able to find wineries and sports bars close by. Filled with beautiful homes with a surprisingly good amount of yard space, Palma Ceia is one of the richest neighborhoods in Tampa. Here, the average home price is around 695k and the median household income is about 120k. For all the downtown commuters, Palma Ceia is located just four miles away from downtown Tampa and even fewer miles from Hyde Park.
3. Beach Park – An Affluent Neighborhood in Tampa
Population: 4,114
Median Household Income: $107,000
Median Home Listing Price: $820,000
Among the most affluent neighborhoods in Tampa, the area of Beach Park is mostly residential except for a handful of local businesses along the northern border of the community. It is a popular area for people over the age of 40 years old with a quiet aura about the streets.
Town Square Center has some of the best places to shop around Beach Park including Pier 1 Imports, Petco, Jos. A Bank, and more. Ciccio Cali, the Little Donut House, and the Fresh Kitchen are some of the best places to eat nearby. Beach Park also offers the easiest access from Tampa to the fun city of St. Petersburg across Old Tampa Bay.
4. Hyde Park – Popular Community for Families
Population: 10,192
Median Household Income: $77,300
Median Home Listing Price: $611,000
What makes Hyde Park one of Tampa's best neighborhoods?
Located directly southwest of downtown Tampa and across the Hillsborough River is the family-friendly community of Hyde Park. Filled with 19th-century architecture, tree-lined stress, and an affluent community, Hyde Park is one of the most beautiful upscale neighborhoods in Tampa.
As one of the best Tampa neighborhoods for children, you'll find around 10 schools within this area including Woodrow Wilson Middle School and Gorrie Elementary.
The local park this Tampa neighborhood is named for boasts open space as well as basketball courts and softball fields. Hyde Park is located about ten minutes from downtown Tampa (traffic depending). You won't need to travel downtown much, though. Hyde Park is filled with plenty of dining options, everything ranging from healthy chains to unique restaurants. Check out On Swann for fine dining and then head to Sprinkles to get a cupcake from their cupcake ATM machine!
People living here also have plenty of great places to shop at the local Hyde Park Village mall. There are clothing stores, home decor stores, and even a great plant store called Leafy Luv. If you are not in the mood for dining and shopping, you will have to check out Bayshore Blvd. Located right next to Hyde Park, the Bayshore Linear Park trail has a 4.5-mile-long sidewalk along the water with incredible city views where you can walk the dog, go for a jog, or take a bike ride. There is also always something going on here.
Check out Hyde Park Events for upcoming events so you can get a feel for what kind of things Hyde Park has going on. Just some examples are outdoor yoga and farmers' markets. The median home price in the area is around 611k, and there are options for renting apartments and condos as well. Don't be surprised if you absolutely fall in love with Hyde Park, everyone does!
If you want to make yourself a part of any of these communities, you should check out the latest listings for homes for sale in Largo, FL or let us introduce you to a local agent in the area.
5. Westshore – Among Most Affordable Neighborhoods in Tampa
Population: 1,198
Median Household Income: $49,600
Median Home Listing Price: $365,000
Home to Tampa International Airport, Westshore is one of the largest communities in the city with a thriving economy and plenty of great benefits. It is easily one of the most affordable neighborhoods in Tampa with beautiful homes to choose from around Drew Park, Lincoln Gardens, and Westshore Palms.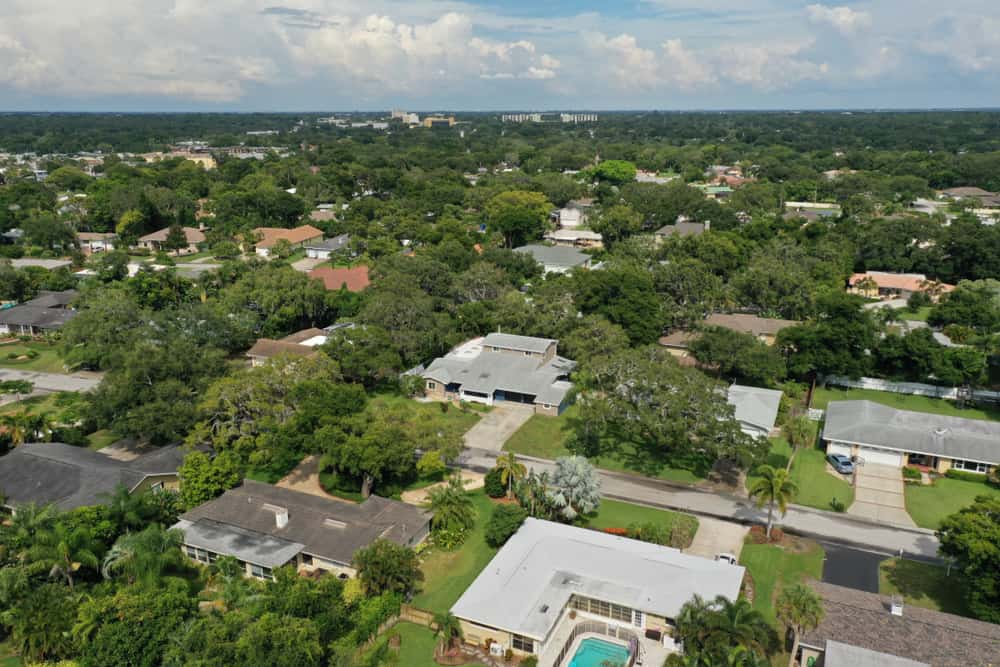 Considered the hidden gem of West Tampa, you'll also find the spectacular Cypress Point Park in Westshore, where you can enjoy the beach and its scenic walking trails. A trip west along the Courtney Campbell Causeway will lead you straight to the city of Clearwater about 18 miles away, which is home to some of the top-rated beaches in the entire world.
6. Riverside Heights – Small but Charming Tampa Neighborhood
Population: 2,792
Median Household Income: $61,000
Median Home Listing Price: $427,000
Along the east side of the Hillsborough River, the community of Riverside Heights is small but offers a high level of charm and comfort to its residents. Apart from the three local parks, the area is mostly housing space.
Slightly south of this Tampa neighborhood, one of the most exciting activities for kids can be found at the Water Works Park, a splash pad and playground that makes a perfect picnic spot for families. Two of the best places to grab a bite to eat around Riverside Heights are China Moon and Rincon Guatemalteco.
7. Ballast Point – Closest Public Neighborhood to MacDill AFB
Population: 5,807
Median Household Income: $74,200
Median Home Listing Price: $424,990
Directly north of Macdill Air Force Base, Ballast Point is another one of the safest neighborhoods in Tampa. You'll find one of the most diverse selections of homes to choose from in this community with prices ranging from the low $100,000s up to locations with a $1,000,000+ price tag.
Both Gadsden Park and Ballast Point Park provide opportunities for families and their pets to run, play, and have picnics. The best places to eat around the Ballast Point neighborhood are Big Ray's Fish Camp, Mama's Kitchen, and the Bayshore Mediterranean Grill.
Population: 7,128
Median Household Income: $98,900
Median Home Listing Price: $700,000
The name alone makes this community sound like one of the best Tampa neighborhoods you'll find around town. Bayshore Beautiful has a wide range of modern-style homes and condos, giving you plenty of options if you want to live there. The local South Tampa Family YMCA offers residents fun activities like basketball, soccer, and an outdoor swimming pool.
Bayshore Beautiful is located right next to the Britton Plaza shopping mall where people living there enjoy great amenities like the Britton 8 movie theater and a Publix Super Market. The neighborhood also has great restaurants such as Mad Dogs & Englishmen, Caffé Paradiso, and Roux.
9. Ybor City – Most Diverse of the Tampa Neighborhoods
Population: 4,342
Median Household Income: $24,200
Median Home Listing Price: $164,900
Located directly northeast of downtown Tampa, the large community of Ybor City is a lively, fun part of town. It has a highly diverse group of people who enjoy great amenities and easy access to other areas around Tampa. The neighborhood is split up between a handful of unique communities that include V.M. Ybor, Historic Ybor, East Ybor, Ybor Heights, and College Hills.
People living in the area have a variety of great things to do and places to eat at Centro Ybor mall.  While the Ybor City  Museum and State Park offer special insight into the past and present of the locale, while also featuring a beautiful garden around the perimeter.
10. Cory Lake Isles/Arbor Greene – Nicest Neighborhood in Tampa for Outdoor Lovers and Families
Population – 2,376 (Cory Lake Isles), 3,495 (Arbor Greene)
Median household income – $115,000
Median or average home price – $850,000 (Cory Lake Isles) / $550,000 (Arbor Greene)
Why is Cory Lake Isles and Arbor Greene part of Tampa's best neighborhoods?
Next up is the Cory Lake Isles and Arbor Greene neighborhoods. Although they are technically two different neighborhoods located adjacent to each other, these neighborhoods are so similar and so spectacular that we had to put them together. Both Cory Lake Isles and Arbor Greene neighborhoods are for the outdoorsy people. Living here means you are within walking distance to a lot of nature. Both are located right next to Hillsborough Wilderness Preserve, so you will never run out of places to hike. You can also check out Flatwoods Park and Hillsborough River State Park as well.
Basically, you will always have an opportunity to be active if you live in these neighborhoods. Located a little further from downtown, the commute might be a little longer than some of the other neighborhoods on our list, but the area is more relaxing and quiet. The community here is great, too. People here are friendly and welcoming, and there are always family-friendly activities going on in the community. Housing prices range here, you can find some for about 520k, and others for 630k. If you want the cheaper option, try looking in Arbor Greene.
11. Harbour Island – Dream Island Neighborhood in Tampa
Population – 3,533
Median household income – $96,400
Median or average home price – $667,500
What makes Harbour Island one of Tampa's best neighborhoods?
If you are moving to Tampa to be in paradise, look no further than the Harbour Island neighborhood. Harbor Island is, well, an island. With a population of about 3.53k, Harbour Island is located just a short bridge away from the mainland, so commuting is short. In fact, it is even considered a sub-district within Downtown Tampa and there is a trolley and water taxi to downtown.
You will definitely want to take advantage of staying on the island, though. With fine dining options right on the water and cafes close by, you will have just about everything you need for an island getaway right in your backyard. Harbour Island consists of mostly privately owned residential areas with condos, apartments, small and large homes. You won't have to break the bank either. While the average home price is about 667k, Harbour Island is actually one of the more affordable options in the area. For example, right next door is Davis Island, where home prices are on average above a million dollars. You can still take advantage of the Davis Islands amenities, though. One of the most popular is the Davis Island dog beach. If you are looking for a walkable, safe, quiet and family-friendly neighborhood right by Tampa, Harbour Island is a great choice.
12. Sunset Park – One of Tampa's Safest and Wealthiest Family-Friendly Neighborhoods
Population – 3,854
Median household income – $136,000
Median or average home price – $1,185,000
What makes Sunset Park one of Tampa's best neighborhoods?
If you are moving to Tampa to be close to the water and want one of the safest neighborhoods to raise a family, then you will definitely want to check out Sunset Park. You will either live on the water or be able to walk to it in just a few minutes.
The Sunset Park suburb is a little bit further from downtown compared to other neighborhoods, but it is still less than a fifteen-minute drive. Since there isn't much nightlife in the area, the neighborhood is great for families. Other reasons it is great for families are the highly rated schools and the homes with big yards. Sunset Park is also one of the richest neighborhoods in Tampa, with home values averaging around 1.2 million.
"*" indicates required fields
Looking For A New Home In The Area? Let Us Connect You With A Local Real Estate Professional.
We know a little about moving. A successful move starts early, having the right Real Estate team makes a big difference.
Tampa Neighborhoods Map
Ready to Choose from These Tampa Neighborhoods?
After looking through this list of the best neighborhoods in Tampa, which one do you think will fit your needs? Whether you want a place close to the water or something further inland, this great city provides amazing opportunities for all.
And if you've already decided which part of town you'll be relocating to, our 5-star rated crew of professional Tampa movers are here to help! Give us a call today at (813) 922-1528 or complete the Request a Quote form to get a free Tampa moving estimate!