Considering settling in the Tampa Bay area? While Tampa has plenty to offer, the suburbs of Tampa can offer more affordable living, closer amenities, and less traffic. No matter which suburb you choose, you'll still be close to the excitement of downtown Tampa with most suburbs within 10 to 25 miles of the city.
So, which Tampa suburbs are the best? This Tampa suburbs guide will help you narrow down your many Tampa Bay options from small cities with great beaches to Tampa suburbs with the best schools and recreation.
Wesley Chapel – Best Tampa Suburb for Families
Relocating with kids? One of the best suburbs in Tampa for families is just 23 miles north of downtown Tampa. This census-designated place has a population of more than 53,000 and offers a great quality of life with plenty of amenities.
The median household income in Wesley Chapel is $77,000, far surpassing the national average. Your money will go far, too; this Tampa suburb is fairly affordable!
Wesley Chapel has been growing rapidly for decades and now has several luxury developments like Enclave at Wiregrass Apartments and Epperson which boasts the Crystal Lagoon and white sand beaches. It even has three brand-new malls and six middle and high schools, most of which are new. Despite this rapid growth, Wesley Chapel maintains a lot of undeveloped nature.
View this post on Instagram
You'll find plenty of family-friendly neighborhoods in Tampa within the Wesley Chapel community with regular events, open-air markets, and great youth sports programs. Check our complete guide to living in Wesley Chapel, FL to find out more!
GET CONNECTED TO A LOCAL REAL ESTATE PROFESSIONAL
Lutz – Best Tampa Suburb for Entertainment
Love being near the action but want more affordable, safer living outside the city? Lutz is a great community with so much to offer. Located just 14 miles due north of Tampa, Lutz has some of the safest Greater Tampa neighborhoods and it's known for its shopping and entertainment options.
Lutz isn't just popular with families, it's also an exciting suburb in Tampa for young professionals, millennials, and outdoor enthusiasts. Curious what will keep you busy in the community?
Lutz is home to the Tampa Premium Outlets, one of the region's largest shopping destinations, plus attractions like American Balloons and TPC Tampa Bay, one of Florida's best golf courses.
Clearwater – Tampa's Best Suburb for Beach Living
Dreaming of living near the water? Clearwater may be calling your name. This Tampa suburb is a popular destination for spring-breakers and snowbirds, but it also offers residents endless things to see and do.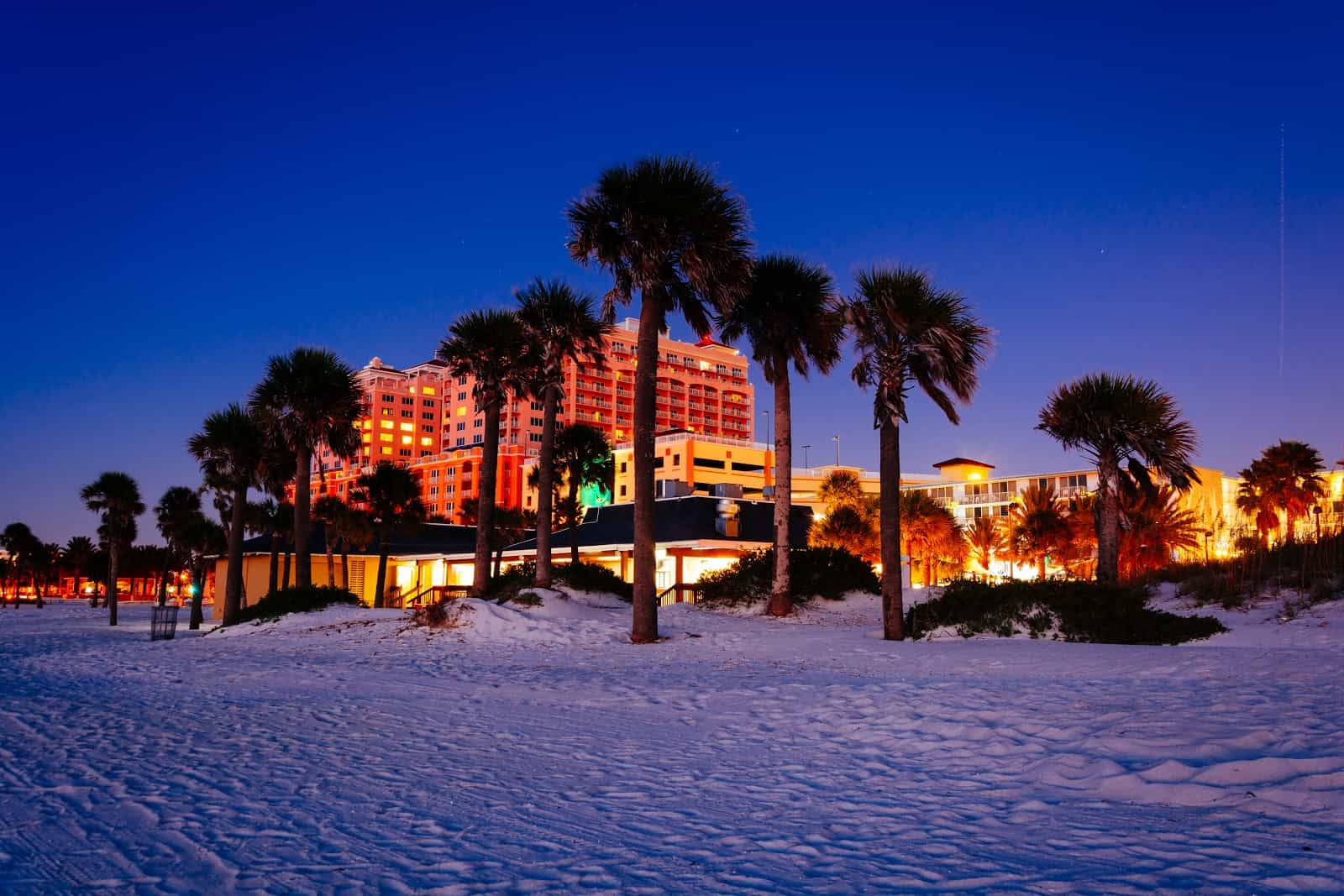 Clearwater has been named the Top Beach Town in Florida. Enjoy rollerblading or strolling down Beach Walk, a walkway along the famous Clearwater Beach with shops, restaurants, landscaping, and entertainment venues to explore. Enjoy the city's many parks like Moccasin Lake Nature Park or take in the nightlife at the Pier.
Clearwater is one of the best-known and affordable suburbs of Tampa, Florida with a median home value of $173,000 and average rent of just $970 per month. There's something for everyone in this beautiful community with affluent neighborhoods like Clearwater Beach offering waterfront living and reasonably priced townhomes in Charter Oaks.
With a low cost of living, affordable housing, a world-famous beach, and a great arts and culture scene, it's no surprise that Clearwater is one of the best suburbs for millennials and retirees alike!
Safety Harbor – Safest Tampa Suburb
Is safety a concern as you relocate to the Tampa Bay area? Safety Harbor, located about 19 miles west of Tampa near Clearwater, isn't just one of the safest suburbs in Tampa; it has one of the lowest crime rates in the state!
Safety isn't all this small community offers; it also has fairly affordable living for South Florida with an average home price near the national average. Popular with families and retirees, there's always something fun to do in Safety Harbor too.
The highlight of this great suburb in Tampa? Amazing parks! Enjoy views of Old Tampa Bay while jogging on the Bayshore Trail. Safety Harbor City Park boasts a dog park, numerous game fields and a skatepark on Alligator Lake while the new Waterfront Park at the Safety Harbor Marina boasts a huge boardwalk on the bay.
Dunedin – Best Tampa Suburb to Retire
Interested in retiring in a Tampa suburb with a great cost of living and active retiree community? Dunedin may be just what you're looking for! Dunedin has been named as one of the best places in the country to retire. This oceanfront town has a fairly large population and offers affordable living with an average home price well below the national average and everything from smaller cottages to condos with waterfront views.
Living in Dunedin is like being on vacation. It's been called the best-kept secret in Tampa Bay and America's Best Little Walking Town. Considering a 55+ community? You'll find great options in the town like the waterfront and upscale Edgewater Arms with private fishing piers and the affordable Royal Stewart Arms condo development.
Dunedin is known for its beautiful white sand beaches and great parks like Honeymoon Island State Park and Caladesi Island State Park. Enjoy a laid back lifestyle in one of the best suburbs in Tampa where boating, fishing, and gardening are ways of life.
If you want to make yourself a part of any of these communities, you should check out the latest listings for homes for sale in Largo, FL or let us introduce you to a local agent in the area.
Valrico – Tampa's Most Affluent Suburb
Valrico is one of the most wealthy suburbs of Tampa with a fairly high median household income and home prices much higher than surrounding suburbs. You can also expect higher rent living in Valrico at about $1,275 per month on average.
Valrico isn't actually a city, although it has a population of more than 35,000 and it's one of the largest communities in East Tampa.
It's definitely one of the best places to live near Tampa if you're looking for a great quality of life and fun things to do. Many neighborhoods offer outdoor recreation like the Sydney Dover Trails and the Mango Dog Park.
St. Petersburg – Best Gay-Friendly Suburb of Tampa
Looking for an LGBT-friendly neighborhood in the Tampa area? St. Petersburg is about 23 miles southwest of Tampa across Old Tampa Bay and it's been named as one of the best gay-friendly places to live in the U.S. It's also a large and thriving city and one of the largest in Greater Tampa.
The city scored 100 on the Human Rights Campaign's MEI to evaluate policies, laws, and overall quality of life for LGBT families and it's one of Florida's most LGBT-friendly destinations. St. Petersburg is also home to the St. Pete Pride Fest, the largest pride celebration in the state.
Living in St. Petersburg, you'll also enjoy great amenities like the Sunken Gardens and The Dalí, an iconic glass Salvador Dalí museum. There are also many St. Petersburg neighborhoods that are sure to be high on your list!
"*" indicates required fields
Looking For A New Home In The Area? Let Us Connect You With A Local Real Estate Professional.
We know a little about moving. A successful move starts early, having the right Real Estate team makes a big difference.
Tampa FL Suburbs Map
As you can see, there are plenty of amazing suburbs in Tampa Bay to explore, from affluent areas like Valrico to family-friendly Tampa suburbs like Wesley Chapel. Has this Tampa suburbs guide helped you narrow down your options and settle on the best place for your lifestyle, budget, and commute? Give the Tampa area movers at 2 College Brothers a call at 813-922-1528 for a free moving estimate and the help you need through every stage of your relocation.