Trying to find the best place to live in Florida? While there are plenty of amazing locales throughout the entire state, most individuals are drawn to Florida's largest cities for employment opportunities, attractions, and top schools. According to the U.S. Census, there are 267 cities and 123 towns in Florida. With so many excellent options, narrowing down which spots are the best for your lifestyle can be a challenge. Thankfully, by reviewing more details on these popular cities, you can easily find the right fit.
Explore demographics for Florida's largest cities, area maps, and more.
Florida Demographics
Prior to learning more about the largest individual cities in the state, check out demographic figures for all of Florida:
Population: 21,216,924
Median age: 42.2
Median household income: $57,703
Median price of housing: $232,000
Area of state: 53,652.2 square miles
Population density: 395.5 people per square mile
State crime rate (per 100K): 2,524
Jacksonville
Jacksonville is the largest city in Florida. It is the most populated, and spans 747.3 square miles. Situated on the northeastern coast of the state, the city is known for its public beaches, attractions, and for having the largest park system in the entire country (a total of 80,000 acres of parks!). Jacksonville is a busy and bustling city, equipped with interstates and roads that connect the area to all of Florida's other top cities.
The City of Jacksonville is a major area for business. Top employers include Amazon, Mayo Clinic, Bank of America, and Baptist Health. Main attractions in Jacksonville include the Jacksonville Zoo and Gardens, MOSH (Museum Of Science & History), and Jacksonville Beach.
Jacksonville Population: 902,488
Jacksonville Area: 747.3 square miles
Jacksonville Median Age: 35.9
Jacksonville Median Household Income: $55,531
Jacksonville Median House Price: $187,700
Jacksonville Crime Rate (per 100K): 3,957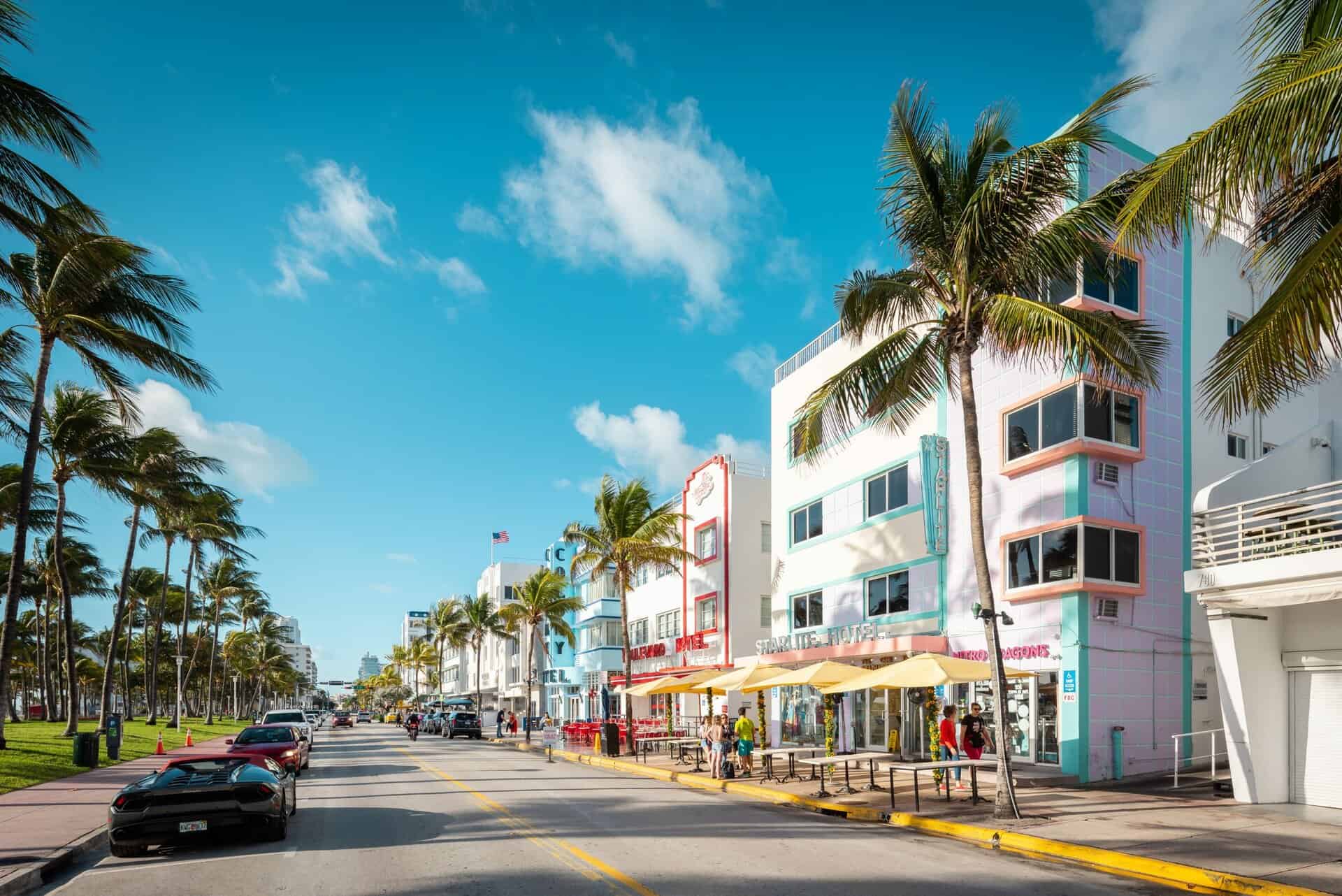 Miami
Known for its vibrant nightlife, luxury living, and iconic Art Deco architecture, Miami is a wonderful place to reside in South Florida, and also the second richest city in the US. Connected to Miami Beach, locals have access to picturesque beaches that can be enjoyed year-round thanks to the area's warm weather.
Residents and visitors alike spend their time at the city's numerous attractions, shopping destinations, pristine beaches, and high-end restaurants. One of the biggest draws to the area is Port of Miami — which welcomes thousands of happy cruisers every year. As one of the main cities in Florida, there is plenty to do and see in Miami, including the Vizcaya Museum and Gardens, Everglades National Park, and Bayfront Park.
Miami Population: 461,080
Miami Area: 36 square miles
Miami Median Age: 40.1
Miami Median Household Income: $44,268
Miami Median House Price: $344,300
Miami Crime Rate (per 100K): 4,261
Tampa
Shifting to the western coast of the state, Tampa is another one of the biggest cities in Florida. Brimming with excitement, culture, and unique attractions, there is plenty for residents to check out in their spare time.
Have the need to unleash your adrenaline? Head over to Busch Gardens for a day of thrills. Another great place to spend the day is the Ybor City neighborhood, which features vintage shops, delicious restaurants, and an eclectic vibe. Other top attractions include Hyde Park, the Florida Aquarium, and ZooTampa at Lowry Park.
Need even more reason to relocate to Tampa? It is consistently ranked as one of the best places to live in the nation by U.S. News & World Report.
Tampa Population: 395,912
Tampa Area: 114 square miles
Tampa Median Age: 35.9
Tampa Median Household Income: $55,634
Tampa Median House Price: $254,600
Tampa Crime Rate (per 100K): 2,034
Orlando
On top of being one of the largest cities in Florida, Orlando is arguably one of the most well-known American cities worldwide. Home to Walt Disney World and other theme parks, this Central Florida city is a top vacation destination. Many individuals living in Orlando are employed in the hospitality industry at one of the city's popular attractions, including Universal Studios, SeaWorld, and at the myriad of resorts in the area.
Aside from the excitement of tourist locales, Orlando offers residents outstanding shopping, dining, and schools.
Orlando Population: 284,817
Orlando Area: 110.6 square miles
Orlando Median Age: 33.9
Orlando Median Household Income: $55,183
Orlando Median House Price: $262,500
Orlando Crime Rate (per 100K): 5,565
View this post on Instagram
St. Petersburg
Nestled along the Gulf of Mexico and Tampa Bay, St. Petersburg is an idyllic Florida city. St. Petersburg is known for its top attractions — including the Salvador Dali Museum and Fort De Soto Park — as well as its exceptional restaurants. Located near some of the region's pristine beaches, including Clearwater Beach and Madeira Beach, residents enjoy an unmatched quality of life. The overall vibe in St. Petersburg is lively, sophisticated, and cultured.
St. Petersburg Population: 264,001
St. Petersburg Area: 61.8 square miles
St. Petersburg Median Age: 43.1
St. Petersburg Median Household Income: $60,798
St. Petersburg Median House Price: $222,900
St. Petersburg Crime Rate (per 100K): 3,805
Hialeah
Located in Miami-Dade County, Hialeah shares a border with Miami — another one of the biggest cities in Florida. It is ranked as the six largest city in Florida by population according to the latest census data.
Serving as a historic community in South Florida, Hialeah is most well-known for Hialeah Park, which opened as a horse track in 1925. This horse track, which also earned the nickname "The World's Most Beautiful Horse Race Course," has brought in famous guests from around the world, including Winston Churchill, Harry Truman, and J.P. Morgan. It is now both a racing track and casino.
Hialeah Population: 233,876
Hialeah Area: 21.6 square miles
Hialeah Median Age: 45.3
Hialeah Median Household Income: $38,471
Hialeah Median House Price: $256,900
Hialeah Crime Rate (per 100K): 2,242
View this post on Instagram
Port St. Lucie
Located on the southeastern coast of Florida, Port St. Lucie is a coastal oasis. Known as the best place to golf in Florida, visitors and residents can take advantage of the amenities at the exclusive PGA Village. The city is also home to the Port St. Lucie Botanical Gardens, Santa Lucia River Club, and multiple outdoor preserves. Affluent and full of gorgeous natural landscapes, this is a picturesque place to reside.
Another perk of living in Port St. Lucie is being situated near multiple beaches, and being located a short driving distance from the ultra-exclusive Palm Beach.
Port St. Lucie Population: 195,773
Port St. Lucie Area: 119.2 square miles
Port St. Lucie Median Age: 42.7
Port St. Lucie Median Household Income: $62,380
Port St. Lucie Median House Price: $224,400
Port St. Lucie Crime Rate (per 100K): 997
Tallahassee
Tallahassee has the distinction of being both the state capital and the largest city on the Florida panhandle. This city is lauded for being a trade and agriculture hub, as well as a college town. Tallahassee is home to both Florida A&M and Florida State University. Public schools across all grade levels are highly rated throughout the city.
Residents enjoy being close to a multitude of shops and restaurants, as well as several premier golf courses — including the Capital City Country Club. Locals also spend their free time at the Tallahassee Museum, attending games at Doak S. Campbell Stadium, and visiting Lafayette Heritage Trail Park.
Tallahassee Population: 192,885
Tallahassee Area: 100.9 square miles
Tallahassee Median Age: 27.2
Tallahassee Median Household Income: $46,461
Tallahassee Median House Price: $212,800
Tallahassee Crime Rate (per 100K): 4,675
Cape Coral
Friendly, fun, and full of life, Cape Coral is southwestern Florida's largest city. Miles of breathtaking canals, which contain various forms of wildlife, surround the area. Neighborhoods here are nothing shy of idyllic. Filled with bright tropical flowers, palm trees, stately homes, and waterways, settling into Cape Coral is effortless.
Of all its magnificent qualities, the city is most well-known for its wildlife and natural spaces. Residents can spend their days off at lovely outdoor locales such as Sirenia Vista, Rotary Park, Coral Oaks Golf Course, and Four Mile Cove Ecological Preserve. In addition to these places, there are even more outdoor parks and preserves for locals to explore.
Cape Coral Population: 189,633
Cape Coral Area: 106 square miles
Cape Coral Median Age: 47.8
Cape Coral Median Household Income: $61,780
Cape Coral Median House Price: $237,400
Cape Coral Crime Rate (per 100K): 1,237
View this post on Instagram
Fort Lauderdale
Fort Lauderdale — located in southeastern Florida — has the distinction of being one of the largest and wealthiest cities in the state. Boasting an impressive median household income of $64,313, and a median home price of $350,900, this city is extremely affluent. It is nicknamed the "Venice of America" because of its historic riverfront and gondola rides.
The city is one of culture and sophistication. Within the 34.6 square miles that it occupies, there are numerous parks and museums, including the Museum of Discovery and Science and the Bonnet House Museum & Gardens. Fort Lauderdale-Hollywood International Airport is located in town, making travel for locals ultra easy.
Fort Lauderdale Population: 181,818
Fort Lauderdale Area: 34.6 square miles
Fort Lauderdale Median Age: 42
Fort Lauderdale Median Household Income: $64,313
Fort Lauderdale Median House Price: $350,900
Fort Lauderdale Crime Rate (per 100K): 5,510
Largest Cities in Florida Map
FAQ Section
How many cities are there in Florida?
According to the U.S. Census, there are 267 cities in Florida
What is the most populous city in Florida?
Jacksonville is the most populous city in Florida
How many people live in Florida?
21,216,924 people live in Florida
Which of Florida's Biggest Cities is Right for You?
After reviewing the information above about Florida's top 10 largest cities, it will hopefully become easier for you to narrow down your choices. All of these cities have an immense number of perks, and experience a warm year-round climate. Once you've made your decision, be sure to enlist the help of our trustworthy and reliable team at 2 College Brothers. Contact us today with your questions at 352-448-9095.