Located in Polk county, the city of Lakeland, Florida, is a highly desired city to reside in. Centrally located in the center of the sunshine state (Florida), prestigious schools, amusement parks, and NFL football are just a quick drive down interstate 4. Lakeland is a great place to live, and residents find its proximity to bigger cities like Tampa and Orlando convenient, as it always gives them something to do.
Lakeland is known for its wide variety of Florida wildlife, many waterways, and its nickname, 'Swan City.'
Lakeland was founded by Abraham Munn and was incorporated on January 1st, 1885. This Florida city has since developed a rich history and was once rivals with a neighboring town, Acton.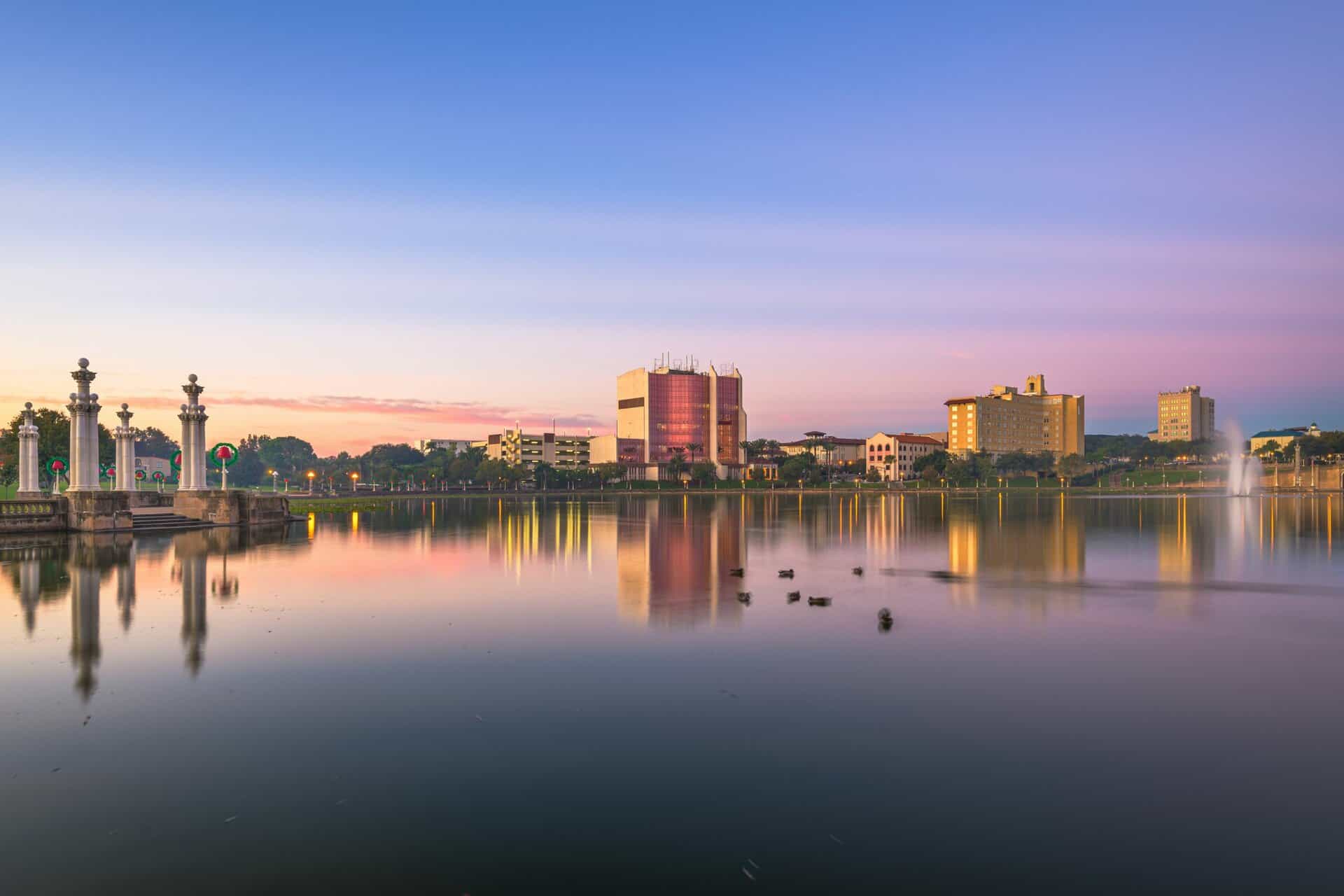 Where Is Lakeland, FL?
This desirable city is part of the Lakeland–Winter Haven Metropolitan Statistical Area. The distance from Lakeland to Tampa Bay, FL, is a short 45 minutes. If you're someone that frequents the beach and luxurious shopping centers, you'll find this short commute to the bigger city well worth it. Clearwater Beach is a 1:30 minutes drive from Lakeland, FL.
Lakeland, FL Population and Demographics
The population of Lakeland, FL is 115,685, with a land area of 66.1 sq mi, density of 1,749.20/sq mi, and growth rate increase of 1.33% (1,522). Throughout its 77 miles, Lakeland has a population density of 1,749 per square mile, making it the largest city in Polk County, the 22nd largest city in the state, and 277th largest city in the United States.
Diversity is below average, with 79% White, 19.4% Black and African American, 4% of two or more races, 3.33% of other races, 1.98% Asian, Native American 0.37%, Native Hawaiian or Pacific Islander 0.07%. The median age is 41.3.
Lakeland, FL, has an overall crime rate of 3,897 per 100K people. Lakeland has a 31.2% higher total crime rate but a 7.5 lower violent crime rate than the entire state of Florida. Like every city, Lakeland has safe and unsafe neighborhoods—there are plenty of very safe places to live in Lakeland, FL.
Cost of Living In Lakeland, FL
Lakeland's cost of living index is 94.6, where 100 is the national average. The cost of living in Lakeland is affordable and surely doable for the average American citizen.
According to the Economic Policy Institute, a family of four can comfortably live off $75,690 a year; in contrast, the median income is $67,899, the median monthly rental cost is $1,056 per month, and the median house is valued at $160,400.
Looking to buy a home in Lakeland? Take a look at Lakeland, Florida homes for sale.
Typical Lakeland, FL, Living Expenses
According to Numbeo, Here's what your everyday cost will look like after you transition to Lakeland. Compared to its neighboring city, Orlando, Lakeland is undoubtedly more financially conscious. Rental prices in Orlando are 56% higher than in Lakeland, making Lakeland an affordable alternative.
Housing $1,023
Food $797
Child care $988
Transportation $1,127
Health care $1,231
Other necessities $659
Taxes $483
Monthly annual $6,308
Lakeland, FL average monthly utilities: $158.05
1 Gallon of milk: $4.50
Loaf of bread: $2.13
1 Gallon of gasoline: $4.75
Utilities: $157.05
Neighborhoods in Lakeland | Where to Live in Lakeland, FL
While Lakeland isn't a huge city, it still has its fair share of diversity in housing prices and neighborhood quality.
The costly neighborhoods are more on the city's outskirts, putting them closer to cities like Tampa or Orlando. Lakeland's ten most expensive neighborhoods are Lake Hollingsworth / Lake Bentley, Christina Woods. Lakeland Highlands East, Lakeland Highlands Northeast, Lakeland Highlands, Medulla West, Lake Hollingsworth East, Socrum, Highland City, and West Galloway. The median real estate price of Lake Hollingsworth / Lake Bentley is $487,205, making it 69.4% pricier compared to other Florida neighborhoods.
Lakeland, FL Weather and Climate
It's no secret Florida's known for its hot, damp days, and while the tropical climate and high humidity levels aren't for everyone, tons of people find the warm sun and cool breeze extremely desirable.
The warmest months will be mid-summer (August); with humidity and heat in full swing, expect daily highs of 90 degrees Fahrenheit and lows of 73 degrees Fahrenheit. However, there's no need to fret; those 30 days are short-lived —meaning the cool fall breeze is right around the corner. For the following 2-3 months, you can enjoy cooler temperatures with an average high of 75 and a low of 50.
The climate data for Lakeland shows the average high is 84.4 degrees Fahrenheit, with an average low of 63.5 degrees Fahrenheit and a daily mean of 73.9.
Schools In Lakeland, FL
Luckily for you, Lakeland is held to the high standards of the Polk County School district and is home to some of the finest public and private schools in the state.
Lakeland is home to over 25 public, magnet, traditional and high Schools. Notable high schools in the Polk County school district are George W. Jenkins Senior High School, rated #5 best school in Polk County, and Lakeland Senior High School, rated #6.
Jobs In Lakeland, FL
While it's not uncommon for Lakeland residents to commute outside of their home city for work, places like Orlando and Tampa aren't too far. However, that's not to say there aren't many work opportunities within Lakeland.
Check out Lakeland, FL's latest job openings and immediate-hire jobs in Lakeland, FL, here.
Things To Do In Lakeland, FL
Looking for unique things to do in Lakeland? Well, you're in luck! With many nature parks, shopping centers, fine dining, amusement parks, and sports stadiums surrounding Lakeland, you'll find an activity to keep you busy. Check out the best things to do in Lakeland below:
Escapology Escape Rooms is one of Lakeland's main attractions. You'll find this premium escape town located in the lovely downtown Lakeland.
210 E Pine St, Lakeland, FL 33801, (863) 698-7329
Lakeland is known for its vibrant and lively nature, which means numerous parks to explore. With over 100 acres of foliage and furry friends, Lake Parker Park is a great place to enjoy the fresh air while becoming one with nature.
Lake Parker Park, Lakeland, FL 33805, (863) 603-6289
The beautiful botanical garden of Hollis Park is a great place to spend your free weekend. Hollis Garden is commonly used as a wedding venue or a place to host extravagant events. However, that's not to say you can't just kick your feet up and relax—pack a picnic and enjoy the fresh air at Hollis Garden.
702 E Orange St, Lakeland, FL 33801, (863) 834-2280
View this post on Instagram
Lakeland, FL Shopping Malls
Everyone needs a place to shop! If you're new to the Lakeland area and aren't sure where to get your essentials, check out these shopping malls near you.
With a wide variety of clothing and shoe stores, Lakeland Square Mall is the perfect place to shop til you drop!
3800 US Hwy 98 N, Lakeland, FL 33809, (863) 859-5414
Southgate Shopping Center
If your new home is located on the south side of town, the Southgate Shopping Center is the spot for you.
Southgate Shopping Center, Lakeland, FL 33801, (727) 318-9608
Yet another southern-side shopping mall—enjoy the Florida sunshine while shopping at this open-air shopping center in Lakeland, FL.
1479 Town Center Dr, Lakeland, FL 33803, (863) 616-9360
Lakeland, FL Hotels
Visiting a town before making the final transition is always great. Take a look at the best-rated hotels in Lakeland.
Lake is home to many luxurious hotels. Be comfortable during your visit and stay at this nearly 5-star hotel.
329 E Main St, Lakeland, FL 33801, (863) 688-0800
Rated one of the best places to stay in Lakeland, you will leave the Hyatt rejuvenated and ready to take on your big move.
525 W Orange St, Lakeland, FL 33815-4521, (863) 201-4792
Lakeland, FL Restaurants
Before staking your claim in a new town, knowing there's adequate dining is key. Here are some of the best restaurants in Lakeland.
What better food to cap off a busy day moving than pizza? Check out Palace Pizza next time you're craving a bite of Italy.
Palace Pizza, South Kentucky Avenue, Lakeland, FL, (863) 688-0045
Harry's Seafood is a must-try if you're a fan of southern cajun fan cuisine with a tolerance for spicy seafood.
101 N Kentucky Ave, Lakeland, FL 33801, (863) 286-2228
View this post on Instagram
Lakeland, FL Statistics and Information
Located in Polk County
Member of Polk County school district
Lakeland area: 75.3 mi²
Lakeland zip code: 33813
Lakeland area code: 863
Lakeland elevation: 194′
Lakeland time zone: EST
The closest airport to Lakeland, FL: Tampa International Airport (TPA)
Map of Lakeland, FL
Are you ready to move to Lakeland, FL? Contact 2 College Brother's Lakeland, FL movers to help assist with your transition. Our licensed and insured team 📝 will help fulfill all your moving requests! We'll make your move to Lakeland feel like a breeze. Contact us at 813-922-1528 or submit an online quote for a free estimate!