Are you thinking about moving to Sarasota FL? If you love the sun, beach, and cultural attractions, nothing compares to life on Florida's Gulf Coast! Sarasota is known for its beaches, including Siesta Key Beach, frequently ranked as one of America's best beaches. It's also famous for its long history of entertainment and the arts.
Formerly known as Zarazote as early as the 1760s, Sarasota was home to Fort Armistead in the mid-19th century before private development began in the 1880s. Sarasota was officially incorporated as a town in 1902 and quickly developed a reputation for recreation, entertainment, and leisure.
The Edward Theatre, which opened in 1925, hosted vaudeville performances and major acts like Will Rogers and Elvis Presley. It was also the winter home of the Ringling Brothers' Greatest Show on Earth.
Lewis and Irene Colson were the first black settlers in Sarasota. Lewis Colson was a former slave, landowner, Reverend, and surveyor who helped survey the town and donated land to build Sarasota's first African American church.
Today, Sarasota boasts everything from a ballet and opera to performing arts and live music venues, museums, art galleries, botanical gardens, zoos, and aquariums. Sarasota Florida, living is action-packed with everything you could possibly want within reach – all with an affordable cost of living! Here's why you'll absolutely love living in Sarasota, one of the best places to live in Florida.
Where Is Sarasota Florida?
Sarasota is in Sarasota County on the Gulf Coast and adjacent to Manatee County. Part of the Greater Tampa Bay metro area in southwestern Florida, the Sarasota city limits include Sarasota Bay and several barrier islands or keys, including Armands Key, Lido Key, Casey Key, Bird Key, Coon Key, and part of Siesta Key.
Sarasota is just 12 miles south of Bradenton and 61 miles south of Tampa. It's surrounded by several unincorporated communities like Lakewood Ranch, North Sarasota, Bayshore Gardens, Whitfield, Kensington Park, Southgate, Saratoga Springs, Fruitvale, and South Sarasota.
Sarasota Information
County: Sarasota
Area: 24.08 square miles
Sarasota zip codes: 34230 – 34243
Area code: 941
Elevation: 16 feet
Time zone: UTC–5 (EST)
Closest airport: Sarasota-Bradenton International Airport (SRQ), 4.5 miles
Sarasota Population & Demographics
The Sarasota population is 54,842 according to the 2020 census with 3,732 people per square mile. It's the principal city of the North Port-Sarasota-Bradenton metro area. The population of Sarasota Florida's metro area is 833,716.
Because living in Sarasota FL is ideal for families, retirees, and millennials, the city boasts a diverse population. The racial and ethnic composition is 64.9% non-Hispanic white, 15.5% Hispanic, 15.5% Black or African American, 1.9% Asian, and 7% two or more races.
Additional Sarasota demographics:
Educational attainment: 38% (bachelor's degree or higher)
Foreign-born population: 14.7%
Veteran population: 7.9%
Median household income: $62,615
Median age: 49
Sex ratio: 53 females to 47 males over 18
Homeownership rate: 57% (75% in Sarasota metro area)
Sarasota Transportation
Getting around Sarasota City is easy thanks to major roads, bus service, and an international airport just minutes away. The city is served by I-75, which runs north-south to Tampa and Miami as well as U.S. 41 (Tamiami Trail), U.S. 301, SR 780 (Fruitville Road), and SR 789, which begins as the John Ringling Causeway and connects the islands to the mainland.
After moving to Sarasota FL, you'll be served by the Sarasota County Area Transit (SCAT) bus service, which connects with Manatee County Area Transit. Light rail and commuter rail plans are currently in the works.
Sarasota-Bradenton International Airport (SRQ) is just 3 miles from downtown Sarasota. You can also fly out of St. Petersburg-Clearwater International Airport, Tampa International Airport, and Southwest Florida International Airport, all within an hour of Sarasota.
View this post on Instagram
Sarasota Florida Cost of Living
Is it expensive to live in Sarasota Florida? Not at all! The Sarasota cost of living index is 102.9 or almost 3% over the national average. That's right at the average cost of living in Florida.
According to the MIT Living Wage calculator, a single adult needs to earn $17.04 to afford the cost of living in Sarasota. The living wage for a household with two working adults is $13.13 with no children or $25.49 for a family of four. According to Family Budget Calculator from the Economic Policy Institute, a family of four needs to earn $84,968 or $7,081 per month to afford modest Sarasota living expenses.
Average Sarasota living expenses:
Milk (1 gallon): $4.23
Loaf of bread: $3.06
Dozen eggs: $4.28
Chicken breast (1 lb): $6.87
Average monthly bills: $1,937
Average car insurance: $174/month
Average utility bill in Sarasota: $259/month
Sarasota sales tax: 7%
Data courtesy of Numbeo and Doxo.
Sarasota Real Estate | Average Sarasota Rent & Home Prices
Planning to buy a house after moving to Sarasota FL? Be prepared for a competitive housing market. While there are some signs the housing market is returning to normal, potential home buyers still aren't getting much relief.
In April 2022, the median sales price for single-family homes in Sarasota County hit $500,000 for the first time, which was an increase of more than 28% year-over-year. Prices have remained steady or increased since then. In January 2023, the Realtor Association of Sarasota and Manatee found the supply of homes in the area increased 400% over the previous year, but home prices have remained steady, and sales have actually declined.
In fall 2022, the median percentage of homes that sold at or below list price dropped below 100% for the first time in more than a year. Still, you can expect to pay around list price when buying a home in Sarasota.
The median home price in Sarasota is $532,500 in spring 2023, up 11% year-over-year, and $347 per square foot. The median price for condos in Sarasota is $417,500, up 19% year-over-year.
You can explore homes for sale in Sarasota, FL, to get an idea of what your budget can get you.
Living in Sarasota as a renter is actually more affordable. You may decide to rent, at least until home prices settle down. The average rent in Sarasota is $2,160, according to Rentcafe.
The most expensive neighborhoods in Sarasota have average rent over $3,000 per month including:
Lido Key
Lido Shores
St. Armands Key
Tahiti Park
Bay Point Park
Burns Square
Central Park – Avondale
Five Points
Golden Gate Point
Laurel Park
Gillespie Park
Rosemary District
Amazing Neighborhoods in Sarasota
There are dozens of Sarasota Florida neighborhoods to explore, how do you narrow down your options? The best places to live in Sarasota Florida range from waterfront communities like Lido Key and St. Armands Key to family-friendly communities like Arlington Park and Southside Village. Here's a quick look at some of the best Sarasota neighborhoods you'll fall in love with.
Southside Village – One of the Best Sarasota Neighborhoods for Families
Families love the historic Southside Village thanks to its tree-lined street, eclectic homes, and great schools. Home to Southside Elementary, one of the best Sarasota public schools, and minutes from downtown and the beach, Southside Village boasts everything from quaint bungalows to Florida ranches. There's excellent walkability to school, Morton's Market, Seminole Linear Park, and the Five O'Clock Club, a bar, and live music venue.
Arlington Park – Affordable Sarasota Neighborhood Packed with Amenities
Arlington Park is an East of Trail neighborhood with a lot to offer. Popular with families, Arlington Park is more affordable for buyers than the city average, with an ideal location minutes from downtown and right next to Sarasota Memorial Hospital, one of the largest employers in the region. It's also packed with things to do. The neighborhood Arlington Park is the community anchor with a large aquatic center, an indoor gym, dog park, and tennis and basketball courts. The Sarasota YMCA is also in the neighborhood for camps, sports teams, and other family-friendly amenities.
Laurel Park – Downtown Sarasota Neighborhood for Young Professionals
Laurel Park is the best place to live in Sarasota Florida if you're looking for a single-family neighborhood but want the lifestyle of downtown. This urban neighborhood is popular with young professional families and retirees thanks to its walkability and location. It's within walking distance of Bayfront Park, Payne Park, the botanical garden, and shopping at Sarasota Main Plaza.
Rosemary District – Fun Hipster Neighborhood in Sarasota with Culture & Dining
The Rosemary District is an historic community that was once the first black neighborhood in the city. Today, it's one of the hottest neighborhoods in Sarasota, with live music venues, a thriving arts scene, antique shops, and restaurants around every corner. It's a haven for young professionals and millennials, but also popular with young families. You'll find many Rosemary District apartments and condos to choose from, with unique amenities like bike sharing, free continental breakfast, and Zumba.
Lido Key – Desirable Sarasota Neighborhood for Waterfront Living
Lido Key is one of the best Sarasota neighborhoods if you're interested in beach living and nightlife options at your fingertips. Home to the 15-acre Lido Beach, Lido Key offers dining and shopping around St. Armands Circle and clusters of luxury homes and condos, including great examples of mid-century modern architecture.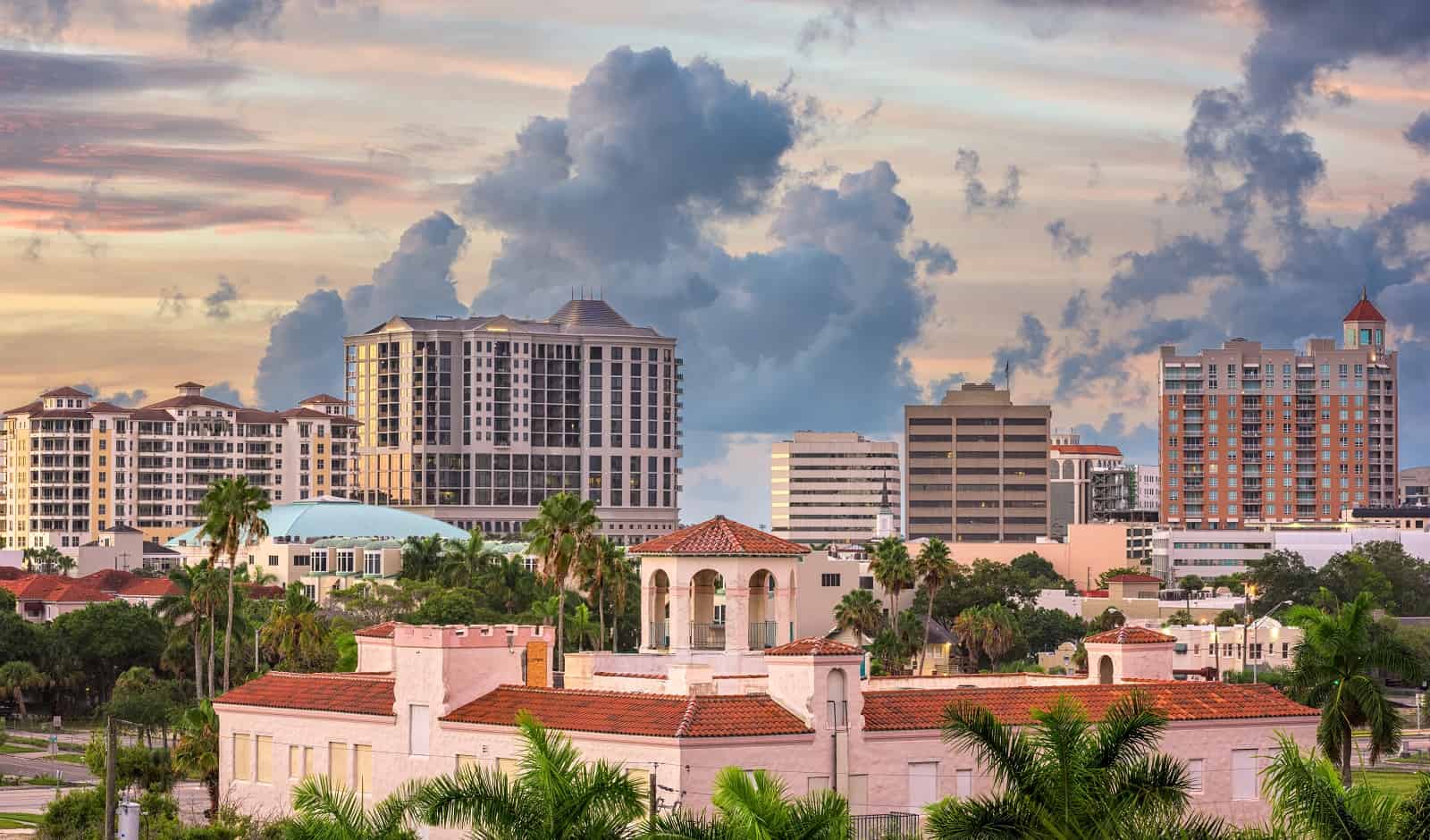 Sarasota Climate – What's the Weather in Sarasota Like?
The Sarasota climate is humid tropical (Köppen Cfa), which means hot and humid summers paired with warm, dry winters. The average rainfall is 56" per year – well over average for the U.S. – so make sure you're prepared for living in Sarasota with a good rain jacket and umbrella. The rainy season is March to November, but winter is fairly dry.
The average high temperature in Sarasota is 90°F from June to September, but the average high temperature is at least 70° every month. About 83 days per year have a high over 90°. With high humidity, the heat index is regularly over 100°F.
Best Sarasota Restaurants
One of the best things about living in Sarasota Florida? The amazing cuisine! You'll love finding your favorite spots for seafood, great views, Cuban food, and more. Here are a few of the best restaurants in Sarasota to check out.
Owen's is a popular local eatery known for its eclectic menu and décor. Located in Burns Court in downtown Sarasota, Owen's serves fresh-caught Sarasota Bay fish with a diverse selection of wine and craft beer.
Owen's Fish Camp, 516 Burn's Lane, Sarasota, FL 34236 (941) 951-6936
This downtown Sarasota restaurant on the water is one of the best spots for seafood. Enjoy water views from the outdoor raw bar patio or upstairs dining area, stop by the piano bar after work, or take a sunset cruise!
Marina Jack, 2 Marina Plaza, Sarasota, FL 34236 (941) 365-4232
View this post on Instagram
The Columbia Restaurant is part of a local restaurant chain going back more than 100 years. It's one of the best St Armands Circle restaurants with traditional Spanish cuisine.
Columbia Restaurant, 411 St Armands Cir, Sarasota, FL 34236 (941) 388-3987
Things to Do in Sarasota
You'll never be bored living in Sarasota, with dozens of major attractions, not to mention miles of gorgeous beaches, dozens of performing arts and music venues, and family-friendly amenities. Here are just some of the best things to do in Sarasota Florida!
Top Sarasota Attractions
Sarasota Museums, Entertainment & Arts
Sarasota Parks & Beaches
Shopping in Sarasota
Map of Sarasota Things to Do
Sports in Sarasota
Sports enthusiasts will find a lot to love after moving to Sarasota! The Sarasota area is home to training facilities for three MLB teams: the Pittsburgh Pirates, the Atlanta Braves, and the Baltimore Orioles, who train at the Ed Smith Stadium.
The Tampa Bay Rowdies were the first pro sports franchise in the Sarasota area and remain a popular soccer team. The city is a popular destination for sport fishing, sailing, golfing, and swimming. There are two swim teams and several yacht and sailing clubs for outdoor enthusiasts.
Sarasota Crime Rate
The Sarasota FL crime rate is higher than the U.S. average, although there are many safe Sarasota neighborhoods. In January 2023, there were 553 crimes reported to the Sarasota Police Department. Of these crimes, 237 were larceny or theft, 136 were assaults, 55 were burglaries, 46 were cases of fraud, and 32 were car thefts. There were also 46 DUIs in the city. You can see a Sarasota crime map here which shows recent crimes in the city by type and location.
Job Opportunities in Sarasota
Tourism is the main industry in Sarasota, but the city also offers many job opportunities in manufacturing and education. Major Sarasota employers include:
Sarasota Memorial Health Care System
PGT Innovations (manufacturer)
Helios Technologies (manufacturer)
HCA Florida Sarasota Doctors Hospital
Sarasota County Schools (jobs)
Tervis (manufacturer)
Ritz-Carlton Hotel
Ringling College of Art and Design
FCCI Insurance Group
The average salary in Sarasota is $19.58 or $64,000 per year. With so many major employers in the area, the city has an average commute of just 22 minutes compared to the U.S. average of 27 minutes. Ready to start your job search? Here are some great sources for jobs in Sarasota FL:
View this post on Instagram
Great Schools in Sarasota
While living in Sarasota, you will be served by Sarasota County Schools, the public school district for all of Sarasota County. There are several great Sarasota schools, including Riverview High School, one of the best magnet high schools in the country with a 57% AP participation rate, and Suncoast Polytechnical High School, a technology magnet school.
Families can choose from many private schools in Sarasota, including Imagine School at Palmer Ranch (PK-8), The Classical Academy of Sarasota (PK-12), and Sarasota Christian School (K-12).
Sarasota Florida living also offers many opportunities for higher education! Ringling College of Art and Design is a top private college and the area is home to New College of Florida, the University of South Florida Sarasota-Manatee Campus, and State College of Florida, Manatee-Sarasota, the largest public college in the region.
Is moving to Sarasota FL in your future? With 2 College Brothers, your upcoming move will be a smooth transition free of stress and hard work. Give us a call today for a free, personalized moving estimate from our Sarasota movers!