Tampa is the third largest city in Florida, serves as the county seat of Hillsborough County, and is the largest city in the Tampa Bay area. It is rich in history, and is a thriving city. Tampa is known for its diverse culture, booming economy, and enviable weather. The city is almost entirely surrounded by water, Hillsborough Bay and Old Tampa Bay making up a large part of the city's borders. 
Today, Tampa is a major destination for finance, healthcare, tourism, shipping, and professional sports industries. Tampa nicknames include The Big Guava, Cigar City, and the Lightning Capital of the World.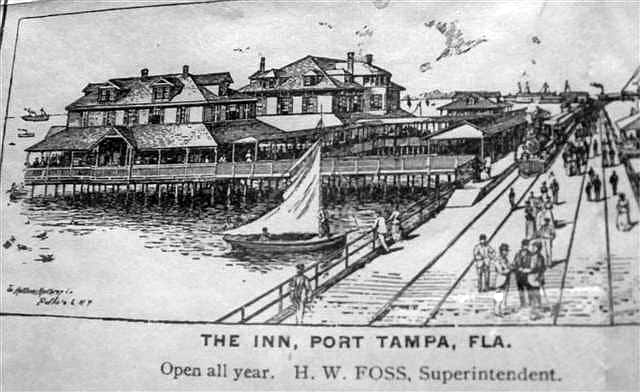 Though we know Ponce de Leon passed through the Tampa area in 1513, its American history doesn't begin until the 19th century. In 1824, when the US took possession of Florida from Spain, four United States Army companies established Fort Brooke at the Tampa Bay harbor. Growth was slow until Henry B. Plant brought the railroad to the area in the 1880s. Soon after, cigar and phosphate industries thrived and the population exploded. The cigar industry is especially responsible for the influx of immigrants from Cuba, Spain, and Italy. By the 20th century, Tampa was a major economic city, and organized crime operated behind the scenes. The city gradually annexed nearby communities and unincorporated land, expanding its footprint. Growth slowed a bit in the latter half of the 20th century, despite urban renewal efforts. Tampa was hit hard by the 2007 recession, but continues to make an impressive recovery. Famous people from Tampa include Ray Charles and Aaron Carter.
Tampa Population & Demographics
The population of Tampa is 361,477 and growing at a rate of about 1.63% a year. The Greater Tampa Bay Area has over 4 million residents. Tampa is very diverse, with a demographic breakdown that is 46% white, 23% Hispanic, 24.3% Black or African American, 4% Asian, and 2.8% mixed/other races. 51% of the population is female and 49% is male. Tampa has a 19.2% foreign born population. Of that group, 64% are of Latin American descent. The majority of foreign born Tampa residents come from Cuba, Haiti, and Colombia. About 21% of Tampa residents speak Spanish at home, and English-speaking residents can expect to hear Haitian spoken as well.
Tampa's median age is 34.6. In fact, the largest age group in Tampa is 18-29, comprising 20.5% of the population. 51% of the people living in Tampa are women. Only 41% of Tampa residents are married, making it a great city for singles.
The median household income in Tampa is $48,900. Though that's well below the national average, income is growing at an 8% annual rate. The largest industries in Tampa are healthcare and social services, retail, and professional/scientific/technical. Most common jobs are management, business and financial operations, and educational positions. 35.5% of Tampa residents have received their Bachelor's degree or higher.
GET CONNECTED TO A LOCAL REAL ESTATE PROFESSIONAL
Cost of Living in Tampa
Living in Tampa is relatively affordable. Overall, the cost of living in Tampa is about 5% lower than the national average. In fact, residents of Tampa pay 23% less than the national average for housing. Utilities are about 16% higher in Tampa: you can expect a typical energy bill to be around $194.99 per month. Groceries in Tampa are priced no higher or lower than the national average. Another bright spot in your budget will be healthcare – costs are 2% lower than the national average. That can mean big savings over time! The sales tax in Tampa is 8.5%. The property tax rate in Tampa is around 1.02%. There is zero state income tax in Tampa.
Typical Living Expenses in Tampa
Gas: $2.37/gallon
Internet: $60.56/month
Full-time preschool: $859.93/month
Transportation (one-way): $2.00
Monthly Transportation pass: $65.00
Fitness club: $26.92/month
Milk: $3.69/gallon
Bread: $2.61/loaf
Eggs: $2.48/dozen
Fast food meal: $8.00
Restaurant meal: $15.00
Upscale restaurant meal for two: $60.00
Movie ticket: $12.50
Tampa's Real Estate Market
Tampa's real estate market is considered very competitive, with homes selling in less than two weeks with multiple offers. Homes usually sell for about 2% below list price, sometimes with waived contingencies. The median price for a home in Tampa is $275,000, which works out to $170 per square foot. Real estate prices are rising too, at about a 15% annual rate. It's a great time to get in before prices rise again! Check out current Tampa, FL homes for sale. Tampa homeownership rate is 48.3%, and property taxes average at about $3000 per year.
About 52.7% of Tampa residents rent their homes, and 40% of the population lives in multi-unit housing. The average rent in Tampa is $1,371, about a 4% increase from last year. The most affordable areas to rent in Tampa are University Square, Plaza Terrace, and Tampa Heights. The most expensive areas are Carver City, Downtown Tampa, and Port Tampa City.
If you want to make yourself a part of any of these communities, you should check out the latest listings for homes for sale in Largo, FL or let us introduce you to a local agent in the area.
Tampa Neighborhoods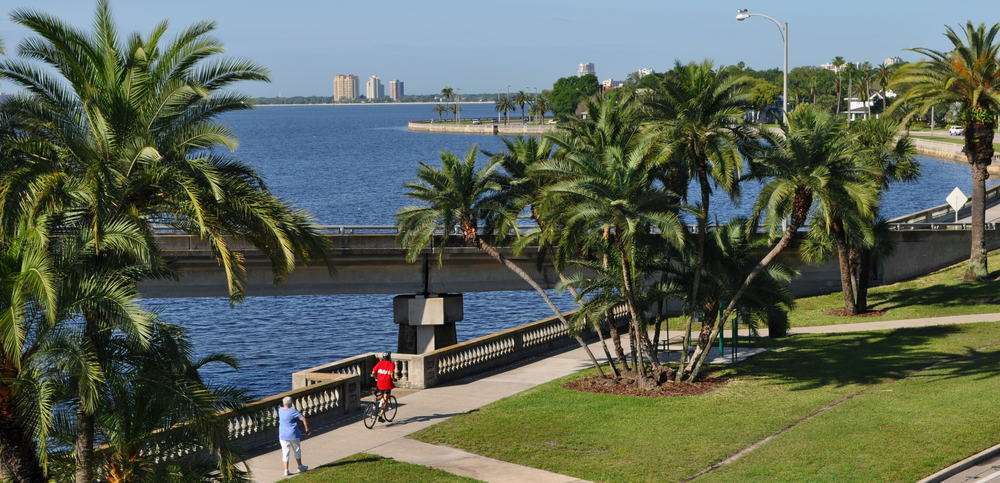 Tampa is divided into many neighborhoods, and each one has its own appeal. Wondering which Tampa neighborhood will be the best fit for you? Check out our list of some of the top neighborhoods:
Parkland Estates – Luxury Living Close to Downtown
Just a 12 minute drive from Downtown, Parkland Estates is one of the most exclusive and wealthiest neighborhoods in Tampa. In fact, it's one of the best places to live in all of Florida. Residents enjoy luxury amenities like the nearby Palma Ceia Golf Course and Country Club, top-notch schools, and easy access to the beaches.
North Hyde Park – Safe, Family-Friendly & Walkable Neighborhood
Population: 10,192
Median Home Cost: $465,000
Just northeast of Parkland Estates is the much more affordable North Hyde Park neighborhood. Millennials love having restaurants within walking distance. Families with school-aged children move to North Hyde Park for access to great schools like the Gorrie Elementary School, and for the safety of the neighborhood. Crime in North Hyde Park is 51% below the national average.
Palma Ceia – Affluent, Artsy Neighborhood
Population: 4,519
Median Home Cost: $844,955
Another neighborhood that comes with a hefty price tag is Palma Ceia. Residents here enjoy luxury amenities like the Palma Ceia Golf Course and Country Club and access to amazing schools. There's also great upscale shopping, and the unique Palma Ceia Design District overlooking Bayshore Boulevard.
Bayshore Gardens – Affordable Neighborhood on the Coast
Population: 1,743
Median Home Cost: $390,000
Just west of Palma Ceia, right on the Hillsborough Bay is the tiny neighborhood of Bayshore Gardens. This neighborhood has it all, and with a much more reasonable price tag that some of the neighborhoods it borders. There are highly rated schools like Roosevelt Elementary within reach, affordable homes, and great restaurants. Renting is affordable here too! The average rent in Bayshore Gardens is $1,075 per month.
Oakford Park – Great for Students, Millenials and Young Professionals
Population: 3,886
Median Home Cost: $255,000
Just beside the The University of Tampa campus is the young neighborhood of Oakford Park. Commuters love being less than ten minutes from downtown Tampa. There's a strong community vibe, with a neighborhood association dedicated to improving and upkeeping the area. The outer streets of Oakford Park are lined with coffee shops, bars, and restaurants, so it's great if you're looking for some nightlife.
The following neighborhoods are considered the least safe in Tampa:
Historic Ybor: crime is 673% higher than the Tampa average
Downtown: crime is 577% higher than the Tampa average
Drew Park: crime is 420% higher than the Tampa average
East Ybor: crime is 404% higher than the Tampa average
Highland Pines: crime is 314% higher than the Tampa average
Tampa Neighborhoods Map
Tampa, FL Weather
Amazing weather is one of the top reasons people choose to move to Tampa. Tampa's climate is defined as humid subtropical, bordering on tropical. Summers here are hot and humid, and winters are mild and dry.
The most pleasant months in Tampa are March, April, and May. The wet season lasts from May to October, during which time the area receives most of its storms and sometimes hurricanes. July and August can be especially uncomfortable, with average daily highs of 90°F and 78% humidity. Following the wet season, from November until April, the weather remains mild and dry. January is the coldest month of the year, with an average temperature of 69.9°F
Tampa has about 105 days of rain a year, and the city receives about 45.2" of rainfall annually. The wettest month is August, with about 16 days of rainfall.
Tampa, FL Restaurants
Tampa is known for Spanish food, Cuban sandwiches, and amazing fish shacks. Here are some of the top spots where you can try each one!
This flagship restaurant is a piece of Florida history. Enjoy amazing Spanish and Cuban food in Florida's oldest restaurant, which has grown since its opening in 1905 to seat up to 1700 guests. It spans an entire city block in the iconic Ybor neighborhood!
2117 E 7th Ave, Tampa, FL 33605, (813) 248-4961
Another historical restaurant you're sure to love is La Segunda. Serving Tampa in 1915, this isn't just one of the best sandwiches in town. La Segunda is the world's top supplier of Cuban bread, making about 20,000 loaves a day. They know what they're doing!
2512 N 15th St, Tampa, FL 33605, (813) 248-1531
Big Ray's Fish Camp may be small in size, but it's one of the best-rated fish shacks in Tampa. This casual eatery with a nautical vibe is a great place for an easy meal. Locals love the conch fritters!
6116 Interbay Blvd, Tampa, FL 33611, (813) 605-3615
Things To Do in Tampa
If you decide to move to Tampa, you won't have a hard time finding something to do. The city is pulsating with activities for foodies, nature lovers, art and history buffs, sports fans, and shoppers. Here are some of the best activities in Tampa:
Top Attractions
Art & Entertainment
Museums
Spend an afternoon at The Museum of Science and Industry. It's home to the only domed IMAX theater in Florida and an amazing planetarium.
One of the stops on the Tampa Riverwalk is the Glazer Children's Museum. No matter what your children are interested in, they'll find it here.
The Tampa Museum of Art sits right in downtown Tampa. This award-winning building is home to amazing contemporary and modern art, as well as fascinating antiquities.
Parks & Outdoor Activities
Shopping
International Plaza and Bay Street is a shopping destination for the entire west coast of Florida. Home to 200 stores and 15 restaurants, it's easy to spend a whole day here!
Westshore Plaza is an indoor shopping mall on the west side of Tampa. This mall has big retailers, great restaurants, and an AMC theater.
Hyde Park Village is a beautiful outdoor shopping district in Historic Hyde Park North. Check out large retailers like Madewell and Anthropologie.
Map of Tampa Attractions
Setting Up Utilities and Driver's License Change of Address in Tampa
You will need to transfer or open all new utility accounts to your new location, so you'll need to know who the providers are. Here are the utility providers in Tampa:
Tampa Sports Teams
Sports lovers will be right at home. The city is represented by teams in three out of four major North American professional sports leagues, as well as the United Soccer League. On the professional level, Tampa is home to the Tampa Bay Buccaneers (NFL), Tampa Bay Lightning (NFL), Tampa Bay Rays (MLB), and Tampa Bay Rowdies (USL). Tampa is home to minor league baseball team the Tampa Tarpons, whose fields are used by the New York Yankees for spring training.
Baseball fans looking to catch a game will head to Tropicana Field in St. Petersburg. The Lightning plays at the Amalie Arena. The Rays play at the Tropicana Field in St. Petersburg, and the Rowdies' field at Al Lang Stadium is in St. Petersburg as well.
Collegiate sports are well loved in Tampa too, including the University of South Florida's NCAA Division I basketball and football teams.
Transportation in Tampa
There are many transportation options, but most households have one or two cars. Over 75% of residents commute on their own to work, with an average commute of 23.7 minutes. That's a little less than the national average commute of 25.7 minutes.
Tampa is served by the Hillsborough Area Regional Transit Authority.  HART provides an extensive bus system, and the Marion Transit Center in Downtown Tampa is the main hub for the city. There is also a rapid bus system that connects Downtown Tampa to the University Area. Travel by streetcar is also an option using the TECO Line Streetcar loop.
Tampa is not a particularly walkable city, though there are some neighborhoods that are better than others. There is a bike sharing program called Coast Bike Share that residents can take advantage of.
Tampa is conveniently located near three airports. St. Petersburg-Clearwater International Airport and Sarasota-Bradenton International Airport are great options. However, the main airport that serves the city is the Tampa International Airport, only 13 minutes from Downtown. Click here for directions!
Tampa Crime Rates
Major cities will always have some crime. Tampa is no different, but it is considered safer than the national average, and crime is decreasing at about a 2% rate year over year.
The total crime rate in Tampa is 8% lower than the national average. Property crime occurs 23% less than the national average. Here are a few more statistics regarding Tampa crime rates:
The rate of violent crime in Tampa is 405 cases per 100,000 people, only 7% higher than the national average
Robbery rates in Tampa are 405 cases per 100,000 people
The rate of rape cases in Tampa are 30 per 100,000 people
The rate of murder in Tampa is 7.7 cases per 100,000 people
There are 296.1 assault cases per 100,000 people in Tampa
Large cities like Tampa can have widely different crime rates in different areas. It's important to research the neighborhoods you're interested in to be sure they're safe before making your move. Click here to look through the interactive community crime map provided by Tampa Police Department. It's important to note that sex offenders and predators are not provided in this map. Click here for more information about sex offenders in the Tampa area.
Tampa's Economy
Tampa's GDP is $159 million, the 24th largest in the United States. Many industries contribute to Tampa's economic success, including tourism, shipping, healthcare, insurance, and real estate. Tampa is also home to the 7th largest port in the United States, which is a great contributor both with shipping/receiving and cruise ship travel. Several Fortune 1000 companies have chosen Tampa as their headquarters; among them are WellCare, TECO Energy, OSI Restaurant Partners, and Raymond James Financial.
Healthcare in Tampa
Tampa residents have access to over 20 hospitals, multiple cancer treatment facilities, four trauma centers, and many health research centers. Tampa's best hospitals are Tampa General Hospital, Morton Plant Hospital, St. Joseph's Hospital, Mease Countryside Hospital, and AdventHealth Tampa. Tampa General Hospital is especially highly rated on a regional and national level. Tampa is also home to the University of Southern Florida's Byrd Alzheimer's Institute, which conducts research as well as patient care. The city also has a big focus on animal care. Tampa is home to hundreds of veterinary centers, and the Humane Society of America.
"*" indicates required fields
Looking For A New Home In The Area? Let Us Connect You With A Local Real Estate Professional.
We know a little about moving. A successful move starts early, having the right Real Estate team makes a big difference.
Jobs in Tampa
Payscale calculates the average salary in Tampa to be $65,000, with an average hourly rate of $17.61, increasing by about 1%. Tampa's most popular jobs are in operations management, project management, and software engineering. Some of the top employers in Tampa are Wellcare Health Plan, Inc., Citibank, University of South Florida, Citigroup, and J.P. Morgan Chase & Co.
According to Glassdoor, the best company to work for in Tampa is KnowBe4, an IT service company, who has an impressive 4.8 star rating on the site. Following closely behind is Power Design, an electrical and construction company. University of Southern Florida makes it into the top 5 on Glassdoor.
Would you like to work for the City of Tampa? They're hiring! Click here for current openings. For more job opportunities in the Tampa area, click here to see what's listed on Indeed.
Tampa Schools
If you're relocating to Tampa and want to make sure your children get a great education, you don't have to worry. Tampa is served by the Hillsborough School District, which educates over 217,000 students in the area. The district has a long list of great schools to choose from: 129 preschools, 206 elementary schools, 113 middle schools, and 70 high schools. The student/teacher ratio in Tampa is 16:1. The top high schools in Tampa are Plant High School, Brooks Debartolo Collegiate High School, and Newsome High School.
If you're looking for higher education options, Tampa has a number of institutions to choose from. The University of South Florida's main campus is in Tampa. If liberal arts is your area of interest, look into the University of Tampa. Tampa is also home to Hillsborough Community College, and two technical educational institutions: Southern Technical College and Hillsborough Technical Education Centers. Law students can attend the Stetson University College of Law in downtown Tampa. Average public tuition in Tampa is $6,768 for in-state students, and $17,692 for out-of-state. If you're looking for a private institution, you can expect to pay an average $26,504 a year. Over 75% of Tampa college students study liberal arts and sciences.
Is the Tampa sunshine calling your name? If so, make sure you're working with the best professional moving company in the Tampa area. Call today to discuss your move and get a free quote. We'll do the heavy lifting for you!