Sarasota, Florida, may be known for its high cost of living, but it remains one of the most desirable places to live in the United States. According to Forbes and the Herald-Tribune, Sarasota has consistently been ranked as one of the best places to live and play. Despite its expensive reputation, Sarasota offers a unique blend of natural beauty and cultural attractions, making it an ideal destination for those seeking a high quality of life. Whether you're looking for a vibrant downtown scene, world-class beaches, or a mixture of urban and suburban lifestyles, living in Sarasota, FL, is a great choice for affordable living with the best amenities at your fingertips.
Here's what you need to know about the cost of living in Sarasota Florida, and how it compares to your current living expenses.
Cost of Living in Sarasota Florida
When it comes to the cost of living, factors can increase and decrease the overall price – lifestyle, number of kids, the neighborhood or metro area, and the state are a few examples. The Sarasota cost of living index can give you a better idea of whether or not you can afford the cost of living in Sarasota FL.
The cost of living in Sarasota FL is 2.9% higher than the national average, but it's on par with the state's cost of living (3.1% higher than the national average). While it's slightly higher compared to the rest of the United States, Florida doesn't have a state income tax, so it helps to balance everything out, making Sarasota an affordable place to live. When you look at the breakdown, housing, and groceries are the two highest categories.
View this post on Instagram

Sarasota Consumer Price Index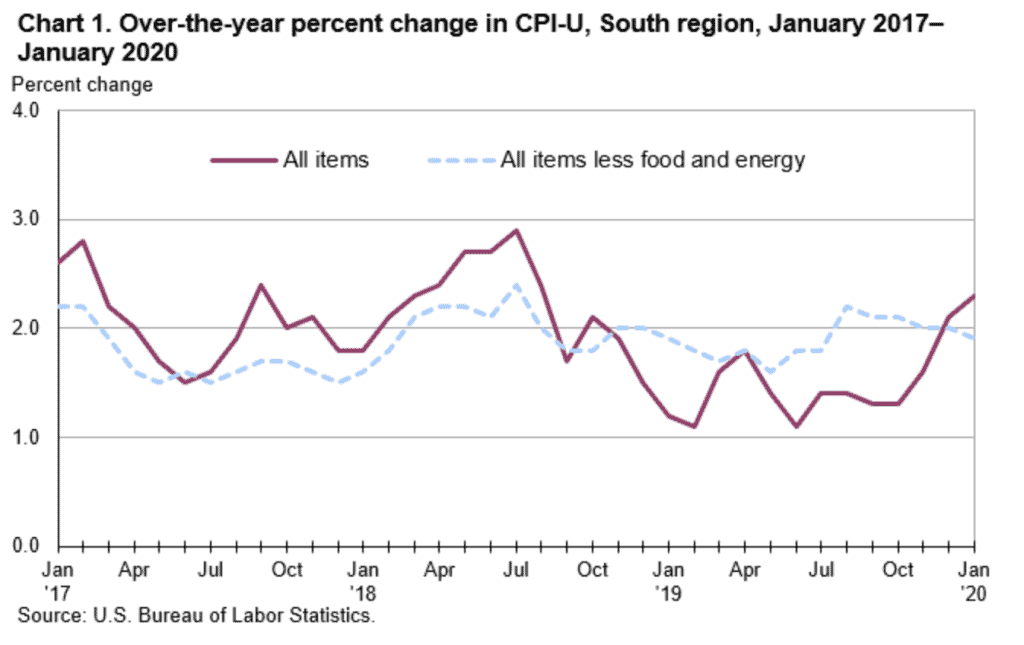 When it comes to the Consumer Price Index for the Sarasota area, the information is based on the southern region. If you look at the breakdown of prices in the southern region, over the last month, they've increased by 0.3%, and over the past 12 months, prices have increased by 2.3%. Specifically for food, the food index has seen an increase of 1.5% over the last year, and when it comes to the energy index, it has seen an increase of 6.7% over the year.
BLS Consumer Expenditure Survey in Sarasota
While the Consumer Expenditure Survey isn't available for Sarasota on the BLS website, it is available for the Tampa area, which is close to Sarasota and very similar in pricing. This page allows you to see the information and data pertaining to income, expenses, and even the characteristics of the consumers. In 2020-2021, the average household in the area spent $60,875, which is similar to the United States average of $64,187.
You can see the percentage breakdown of what the average household ended up spending their income on in the 2020-2021 time period:
Housing: 36.3%
Transportation: 18.2%
Food: 11.6%
Personal insurance and pensions: 11.3%
Healthcare: 9.8%
Entertainment: 3.3%
Cash contributions: 2,1%
Apparel and services: 2.6%
These prices within Florida are higher than in other states in the southern region, like Georgia, Alabama, and Mississippi.
Family budget calculator for Sarasota, FL – Is Sarasota affordable?
Based on the North Port/Sarasota/Bradenton metro area, here's what the Economic Policy Institute recommends that a family of four bring home $84,968 annually to live comfortably. Keep in mind that Sarasota's cost of living is higher than the national average, but as we said earlier, with Florida not having a state income tax, it helps to make your salary go further.
Here's a breakdown for an estimate based on the different expense categories:
Housing: $1,275
Food: $896
Child care: $1,083
Transportation: $1,200
Health care: $1,223
Other necessities: $787
Taxes: $617
Source: Economic Policy Institute
Cost of Household Items, Food, Gas & Groceries in Sarasota
When you're moving to Sarasota (or really any new place), you need to make sure to budget accordingly, regardless if you're buying popular household items or saving up for uncommon expenses in Sarasota, FL!
Sarasota Average Grocery Costs
Wherever you live, groceries are essential. Here's a breakdown of the average cost of living in Sarasota, FL:
Beef round (1 pound): $7.58
Chicken filets (1 pound): $6.62
1 gallon of milk: $4.23
12 eggs: $7.39
Potatoes (1 pound): $1.78
Apples (1 pound): $2.38
Oranges (1 pound): $1.60
Loaf of bread: $3.25
Bottle of wine (mid-range): $13.50
Source: Numbeo
Public transportation cost in Sarasota
When you drive a car in Florida, you can expect to pay somewhere around $3.30 per gallon for gas, according to the US Energy Information Administration for the lower Atlantic area. The local public transportation model in Sarasota is the Sarasota County Transit. If you plan on taking public transportation in Sarasota, you can buy a 30-day bus pass, which is perfect for people taking the bus to work, or you can purchase a one-time ticket for those who are taking it as needed.
The nice thing is that you can plan your trip online, allowing you to know exactly where you're departing and arriving and when you need to leave to get to work on time. In addition to the bus, they have OnDemand, which is similar to rideshare, and SCAT Plus for individuals with disabilities that need help getting to their medical appointments.
Average cost of utilities in Sarasota
Sarasota is considered an expensive place to live in most categories when compared to the rest of the nation, but still cheaper than other major metros and cities close to Sarasota. With that in mind, here's a breakdown of monthly expenses in Sarasota, FL:
Mortgage: $1,506
Auto loan: $546
Auto insurance: $174
Average Sarasota utilities: $259
Health insurance: $122
Cable & satellite: $101
Phone: $114
Source: Doxo
Average car insurance premium (per month) in Sarasota
In Sarasota, FL, the average car insurance policy costs around $286 per month for full coverage. This rate can change and is influenced based on the distance you drive per year, any accidents you're involved in, marital status, having more than one driver on your policy, and even your credit score.
Sarasota Florida Real Estate
According to the Census Reporter for Sarasota, 57% of residents in Sarasota own a piece of real estate. The average sale price per square foot in Sarasota is $308, and it usually takes around 34 days for a home to sell, making the Sarasota Florida real estate industry somewhat competitive. The median sale price for homes in Sarasota is $495,000. If you're curious about the breakdown for Sarasota real estate pricing based on the specific housing type before purchasing a piece of property, check out the following:
Single family: $495,000
Townhouses: $490,000
Condos: $492,450
View this post on Instagram

While the prices are very similar throughout the single-family homes, townhouses, and condos, if you're on a strict budget, condos are a cheaper option when looking to purchase a place in Sarasota.
With Sarasota being a waterfront community, a lot of the homes have a beach vibe to them, but there are plenty of other beautiful styles as well. Check out the available Sarasota homes for sale.
Trying to decide whether or not to purchase a place can be a big decision. If you can't decide, here's some helpful information about the price-to-rent ratio in Sarasota, FL. For example, let's say you purchase a home for $500,000, and the median annual rent is $49,000 for two-bedroom apartments in Sarasota Florida. You will take the home price ($500,000) divided by the rent ($49,000), which gives you a 1:10 ratio.
You may be curious how the ratio can help you determine whether to buy or rent. A ratio of 1 to 15 means that it's better to buy, a ratio of 16 to 20 indicates it's better to rent, and anything over 21 means it's usually always better to rent than to buy because of the high home prices. In this case, a 1:10 ratio means it would be better to buy a piece of real estate property.
There are plenty of great Sarasota neighborhoods that are perfect for settling down and planting your roots! A few of the most popular ones are Arlington Park (an affordable Sarasota neighborhood), Laurel Park (ideal for families), and McClellan Park (a safe Sarasota neighborhood).
Sarasota Rental Market – Average Rent in Sarasota
The average rent in Sarasota, FL is $2,215 for a 951 square foot apartment, according to RentCafe, and there are plenty of apartments for rent in Sarasota. When you compare the rent in Sarasota to the national average cost of $1,937, Sarasota costs around $280 more per month in rent. Laurel Park's average monthly rent of $3,438 is more expensive than the city average. If you're looking for a more affordable place to rent, consider Corwood and Green Manor Estates because the average monthly rent for these two locations are $1,250, which will save you close to $1,000 per month in rent.
When you compare the average rent in Sarasota to the average rent in Tampa, Tampa is cheaper than Sarasota by $317 per month. Before deciding to move, it's always essential to do research to ensure you're able to afford the costs; we recommend looking at the ATTOM and the Rental Affordability Report.
The minimum wage in Florida is $11. To be able to afford a one-bedroom and a two-bedroom apartment in Sarasota (34231), here are the minimum hourly rates you need to make while working full-time:
Hourly wage for a one-bedroom: $20.92
Hourly wage for a two-bedroom: $26.92
Median household income in Sarasota: $62,615
Average Salary & Household Income in Sarasota
The average salary in Sarasota Florida is $64,000 per year, and the average hourly rate is $19.72, according to Payscale. If you're looking for a job that pays higher than the average hourly rate in Sarasota, here are a few examples:
Licensed Practical Nurse (LPN): $23
Registered Nurse (RN): $30
The most popular careers in the North Port-Sarasota-Bradenton area are in the following industries:
Business and financial: $34.94
Computer and mathematical: $41.32
Healthcare practitioners and technical: $41.48
Legal: $46.24
These careers and industries are well above the average hourly rate of $19.72 for Sarasota, FL.
Income, Sales & Property Taxes in Sarasota
Florida doesn't have a state income tax, which makes it a popular place–especially among self-employed individuals. Sarasota doesn't enforce a sales tax, but Sarasota County does have a 1% sales tax, and the state of Florida has a 6% sales tax, making the combined total 7% sales tax.
Sales tax for Florida: 6%
Sales tax for Sarasota County: 1%
Sales tax for Sarasota: 0%
The state of Florida ranks #22 out of 50 for sales tax compared to the other states in America. Now, when it comes to the Sarasota property taxes, it will be 0.89% of your home's assessed value.
Sarasota vs. Tampa Cost of Living
Are you trying to pick between Sarasota and Tampa? Here's a breakdown of the cost of living in Sarasota vs Tampa, FL.
| | | |
| --- | --- | --- |
| | Sarasota | Tampa |
| Median sale price | $495,000 | $410,000 |
| Average rent | $2,215 | $1,937 |
| Price-to-rent ratio | 1:19 | 1:18 |
| Average salary | $64,000 | $71,000 |
| Property Tax | 0.89% of your home's assessed value. | $19.71 per $1,000 of the assessed value of your home |
While the average salary is higher in Tampa than in Sarasota, and the median sale price for a home is cheaper in Tampa, it depends on what you're looking for in a city and the overall community that needs to be your final decision-maker.
The affordable cost of living in Sarasota, FL is just one of the reasons it's a great place to live! Whether you're married, single, or have kids, Sarasota is a beautiful waterfront community that's perfect for all ages. 2 College Brothers is an award-winning moving company with 11+ years of experience. We've served 15,000+ customers, have a 4.8/5 customer satisfaction, and our employees are 100% background checked. We understand that relocating can be stressful, but as movers in Sarasota, we are here to make your transition seamless! Call us today at 813-922-1528 for a free estimate!