Home to some of the most envious weather and exciting attractions in the country, it's no wonder why people love Tampa, FL. It's never a surprise when someone decides this fun city is the place where they want to settle down.
For anyone thinking about relocating to this amazing community, there are some things you should know before taking the next big step. How much does it cost to live in Tampa? What does the Tampa real estate market look like? Will you be able to afford it?
This fully detailed guide will tell you everything there is to know about the cost of living in Tampa and whether it is the right place for you!
Tampa Cost of Living Index
When determining how much it costs to live in Tampa, there are a variety of factors to consider. Your bottom line will be affected by everything from the neighborhood you choose and your daily spending to the number of people living in your home and your bills.
Taking a look at the Tampa cost of living index is the best way to get an idea of what you can expect to pay here. The numbers involved give you an idea of the cost of living in Tampa and how it compares to averages across the United States.
Is living in Tampa expensive? A quick comparison with its fellow Florida city of Miami proves that Tampa is much more affordable. This is mainly due to the lower cost of housing in Tampa.
The Tampa living cost is about 9% lower than the national average. From the local real estate market and home utilities to transportation and healthcare, most living expenses are lower in Tampa. The only exception is groceries which are about 4.5% more than national numbers.
"*" indicates required fields
Looking For A New Home In The Area? Let Us Connect You With A Local Real Estate Professional.
We know a little about moving. A successful move starts early, having the right Real Estate team makes a big difference.
While consumer expenditures in Tampa do vary slightly, they don't go any higher or lower than 2% different from averages in the U.S. If you'd like to plan out the percentages of your expenses for your cost of living in Tampa, these are a good place to start:
Housing 35.5%

Transportation 15.3%

Food 14.3%

Personal insurance 10.1%

Healthcare 7.6%

Entertainment 4.4%

Other 12.8%
If you want to make yourself a part of any of these communities, you should check out the latest listings for homes for sale in Largo, FL or let us introduce you to a local agent in the area.
Cost of Items in Tampa
Among the many things that you'll want to check before relocating, the costs of everyday purchases, local amusement, and bills are good ones to have on your list. By knowing basics like the average cost of groceries in Tampa is a great way to plan out your monthly food cost and know what you have leftover.
Along with food and meals, you may also want to consider the average water bill and the average electric bill in Tampa so you can prepare for the typical utility costs. This can be a key factor in helping you identify whether you can afford a home or not.
Likewise, you should find the price of gas in Tampa to calculate into your transportation costs whether you plan to commute for work or take your kids to their local school.
You'll quickly see that Tampa is an affordable place to live by looking through some select items locals purchase so you can compare with where you currently reside:
Average Expenditures in Tampa
Steak (Ribeye, 1lb.) $9.55

Milk (regular 1/2 gallon) $2.37

Eggs (1 Dozen) $1.68

Potatoes (5 lb bag) $3.85

Bread (1 loaf) $3.27

Beer (Heineken's 6 pack) $9.47

Average Cell Phone Bill $184.73

Average Cost of Gasoline (per gallon) $2.39

Average Cost of Utilities (per month) $123.29

McDonald's Burger (1/4 Pounder) $3.55

Large Pizza $10.02

Movie Ticket (1st run) $12.71
Tampa vs. Miami Cost of Living
It doesn't take long to realize how much more affordable it is to live in Tampa than it is in Miami. In fact, the average cost of living is 18.43% lower in Tampa than in its neighbor on the southeast coast of Florida.
Reviewing every expense between the Tampa vs. Miami cost of living shows that Tampa has lower prices across the board including utilities, healthcare, transportation, and groceries.
Following this same trend, average home prices in Tampa are about 64.4% less than in Miami.
If you want an in-depth look at both of these popular cities, make sure you check out this comparison between Tampa and Miami.
Tampa Real Estate Market
Almost half of the people residing in the area purchase their living spaces with an estimated homeownership rate of 48.3% in Tampa. While most properties spend an average of 33 days or more on the Tampa housing market, that isn't always the case. Nice homes in popular Tampa communities frequently sell for around list price and can go pending in as little as 10 days.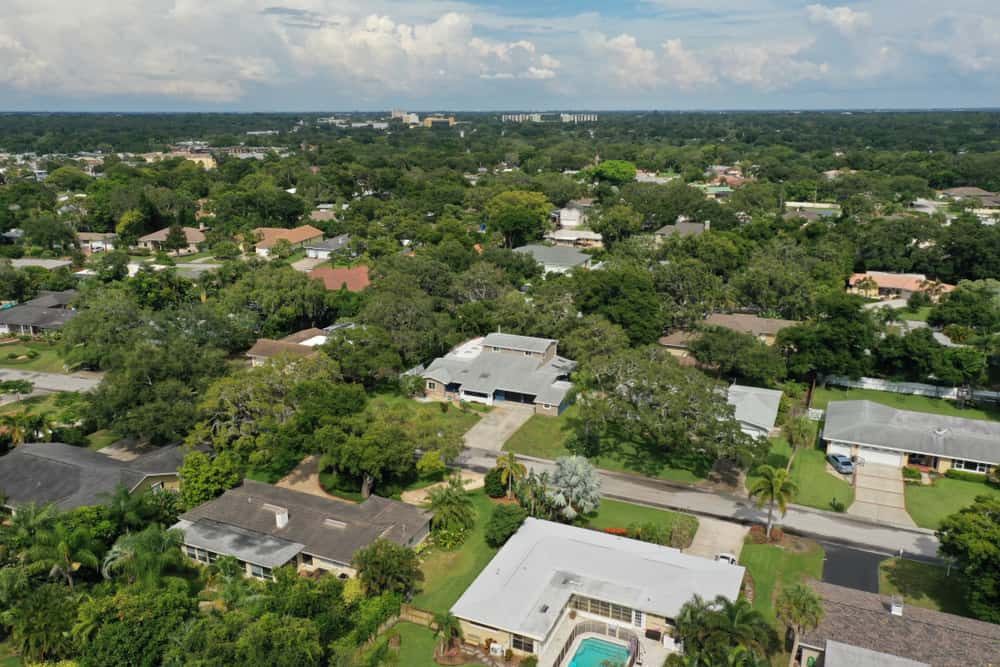 At this time, the average price of a home in Tampa is $255,000, a number that has increased by about 13.8% since last year. To get a basic idea depending on the size of the house you're looking for and Tampa real estate trends, plan to pay an average of about $158 per square foot. Most lenders and deals in the Tampa real estate market will want an average down payment of 10.2%.
And as you try to decide which area is the best place for you based on Tampa house prices, don't forget about your drive to work. With an average commute time in Tampa of about 24 minutes, make sure you find an area of the Tampa housing market that will keep you close.
Tampa Rental Market – Average Rent in Tampa
How much is an apartment in Tampa? With about 52% of locals in the area choosing to rent in Tampa, the majority of people here lease their living spaces.
The average price of rent in Tampa is $1,259 per month. This number has decreased by more than 2% in the last year when it was previously about $1,285 per month. Currently, the average apartment rent in Tampa is about $1,125 per month for a one-bedroom and $1,293 per month for a two-bedroom apartment.
After a closer look, you'll see the average rent in Tampa is anywhere from $806 to $1,209 less per month than in Miami.
Average Salary & Household Income in Tampa
How much do you need to make to live in Tampa? You know what you'll be paying for when it comes to the cost of living in Tampa, but next you'll need to identify whether you can afford it or note.
A look at the local numbers shows that the average salary in Tampa is about $63,000 annually. This number has been seeing an average increase of about 2.1% year over year as it keeps up with the changing Tampa market.
Reviewing these details in another way, the median household income in Tampa is about $54,599 per year. While this number is about 12% less than the national average, it is an appropriate amount sufficient for Tampa living expenses. The main industries representing these Tampa salaries are health care, retail trade, professionals businesses, and technical service providers.
Some of the top employers in Tampa include BayCare Health System hospitals, Publix Super Markets, Hillsborough County School District, and the nearby MacDill Air Force Base. Within these companies and others, the highest-paid careers serving Tampa are health care professionals, business executives, architects, engineers, and legal professionals.
GET CONNECTED TO A LOCAL REAL ESTATE PROFESSIONAL
Income, Sales, & Property Taxes in Tampa, FL
State Income Tax
There is no Florida state income tax as it joins the other six states with this same perk. You can expect to avoid this line item on your Tampa paychecks.
Sales Tax
While you may think the lack of income tax would be compensated by a higher sales tax, Florida finds itself near the middle of the pack. Currently ranked 22nd highest in the United States, the Tampa sales tax rate is 8.5%. Going into this final percentage are the Florida sales tax and the Hillsborough County sales tax.
Florida State sales tax rate 6.000%

Hillsborough County sales tax rate 2.500%

Tampa sales tax rate 0.000%

Total Sales Tax 8.500%
Property Tax
When you purchase a home in the city, you'll find the Tampa property tax is slightly higher than the Florida average but lower than the national average:
Tampa property tax rate 1.023%

Florida property tax rate 0.980%

National property tax rate 1.081% 
To put this into perspective, a home purchase of $250,000 would have an annual Tampa property tax of about $2,557.
Does the Cost of Living in Tampa Fit Your Budget?
Knowing the quality of life you can expect when it comes to your household income and other factors is a great benefit to have before moving to a new place. And with a Tampa cost of living where you'll spend less than the national average, this may be the perfect place for you to live.
Setting up for a relocation to Tampa? Choose the best Tampa movers to take care of you! Give us a call today at (813) 922-1528 to see how 2 College Brothers can help make your move smooth and simple!