Are you moving to Florida and trying to decide whether to live in Tampa or Miami? We understand it can be a tough choice. Each of these cities has great local activities, fantastic beaches, and amazing weather. And on top of that, both of these areas are continually attracting more people who want to enjoy all these benefits.
When looking at a comparison of Tampa vs. Miami, what better way to choose which one is better than with a pros and cons list?
It's also important to review the cost of living in Tampa vs. Miami, as well as details about the local population, crime rate, and weather. You'll find everything you need to know to make a well-educated decision before choosing where to live.
Pros & Cons of Living in Tampa vs. Miami
If you need help deciding which city is right for you and your specific needs, there are plenty of things you'll want to know. Let's take a look at the pros and cons that come with living in Tampa as well as Miami.
"*" indicates required fields
Looking For A New Home In The Area? Let Us Connect You With A Local Real Estate Professional.
We know a little about moving. A successful move starts early, having the right Real Estate team makes a big difference.
Living in Tampa Pros
Affordable Housing Market
The cost to purchase a Tampa home is about 7% less than the Florida median. The average price of a home in Tampa is $219,100. There is also no state income tax in Tampa, allowing your salary to go even further throughout the year.
If you want to make yourself a part of any of these communities, you should check out the latest listings for homes for sale in Largo, FL or let us introduce you to a local agent in the area.
Beautiful & Historic Tampa Neighborhoods
Gorgeous neighborhoods are all over Tampa. The community of Ybor City offers newly built single-family homes as well as comfortable townhomes and condos. South Tampa is a fun and lively neighborhood close to the bay. Channelside feels like living in downtown with its many lofts and highrises.
Fun Things to Do in Tampa
Exciting activities can be found all around the city of Tampa. Busch Gardens is an Africa-themed amusement park with thrill rides, over 200 species of animals, and family-friendly live shows.
The Florida Aquarium boasts 250,000 square feet that house over 7,000 species of marine animals and plant life. Other great places to visit include Adventure Island, the Museum Of Science & Industry, and the 2.6 mile-long Tampa Riverwalk.
Living in Tampa Cons
Local Tampa Transportation Can Have Issues
Most people working in Tampa should expect a commute time average of close to 25 minutes, depending on where you live in town. Areas around the Dale Mabry Highway especially can get busy during rush hour traffic. Luckily, the city also offers affordable trolley car and bus system if you don't want to drive yourself.
Many of the Nicer Tampa Neighborhoods are Run by HOAs
If you're planning on purchasing a home in Tampa, there's a fair chance you'll end up in a community that is powered by an HOA. Some people don't mind, while others despise the loss of control and convenience that comes with it. You should make sure to check the HOA and recognize any fees you'll be required to pay when living there.
Popular Place for "Snowbirds"
Due to the seasonally enjoyable weather, many people from northern states retreat to cities like Tampa for relief from the snow and cold temperatures. It can make the city feel a bit more crowded during these times, though it doesn't make a dramatic difference.
Living in Miami Pros
Strong Miami Education System
Miami is home to a number of great high schools, eight of which are among the top 20 in the state. It is also the home of the University of Miami, which is currently ranked 53rd among national universities in the U.S.
Some of the Best Nightlife in the U.S.
With popular nightclubs all over the city, Miami locals spend many of their evenings and weekends dancing, catching live bands, and grabbing a variety of delicious drinks. Whether you want to be by the oceanfront or in town, you're sure to find a spot worth hanging out at night.
Miami is Home to Many Fun Parks
Local parks both large and small are scattered all over Miami. A few of the most popular parks in town are Tropical Park, Bayfront Park, Margaret Pace Park, David T. Kennedy Park, and Morningside Park. You'll always have a playground, sports field, or walking trail to visit during the week or weekend.
Living in Miami Cons
Miami is an Expensive Place to Live
From the homes and groceries to local transportation costs, Miami is well-above the average when compared to the U.S. median numbers.
Traffic is Exceptionally Bad in Miami
With such a high population in a smaller area, the traffic in Miami can occasionally get out of hand. Many people working in or around Miami have commute times well over 30 minutes one-way.
One of the Main Hurricane Points in the U.S.
Miami is among the top 10 most likely cities in the U.S. to get hit by a hurricane. These storms often interrupt the nicest season for local weather and can lead to heavy winds, rain, and flooding around the city.
The Cost of Living in Tampa vs. Miami
Essentially every factor on the cost of living index when comparing these two cities show that Tampa is a more affordable place to live than Miami. A listed look from Numbeo at many of the typical expenses you'll see from month-to-month shows the Tampa vs. Miami cost of living isn't even close.
Housing Market in Tampa is 42% lower than in Miami
Rent Prices in Tampa are 32.02% lower than in Miami
Restaurant Prices in Tampa are 18.17% lower than in Miami
Groceries Prices in Tampa are 7.98% lower than in Miami
A gallon of milk is $0.31 less in Tampa
A loaf of bread is $0.72 less in Tampa
A dozen eggs are $0.83 less in Tampa
People living in Tampa also have a higher median household income of $50,489, compared to Miami which is $40,327.
Additional Things to Consider Between Tampa vs. Miami
Population
While Tampa is geographically much larger than Miami, there are nearly 80,000 more people living in Miami. The Tampa population is currently 385,423 and the city covers a massive 175 square miles. While the Miami population of 463,354 spans a substantially smaller 55 square miles. As you can imagine, crowding and traffic in the Tampa vs. Miami population tend to be highly one-sided.
Crime Rate in Tampa vs. Miami
Wondering about the Tampa vs. Miami crime rate? According to Alarms.org, the city of Tampa is currently ranked among the top 20 safest cities in Florida. The city of Miami took the 80th spot on the list.
Beaches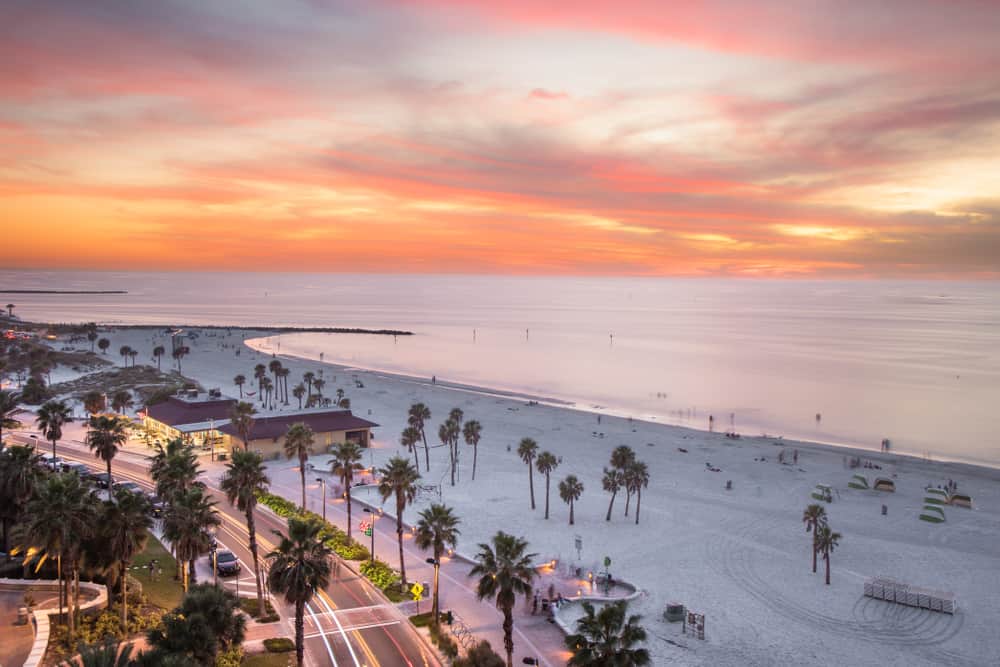 While a comparison of Tampa vs. Miami beaches would provide plenty of great places for sun and sand, one of them stands out among the best. Tampa is less than an hour from three beaches that were ranked among TripAdvisor's Top 10 Beaches in America:
Tampa vs. Miami Climate
If you're curious about the weather differences between the two cities, you won't find a major change between the Tampa vs. Miami climate. Both areas see warm high temperatures that average around 90°F and cool, comfortable lows around the 50s and 60s. Each city also sees about 250 days of sunshine throughout the year with average rainfall between 50-60 inches annually.
GET CONNECTED TO A LOCAL REAL ESTATE PROFESSIONAL
Tampa vs. Miami: Where Are You Moving?
So, now that you know what to expect from both cities, will your new home be in Tampa or Miami? Both cities have their perks and their quirks, but only you can decide which of them will be a better fit for you and your lifestyle.
If you're leaning in the direction of moving to Tampa, the 2 College Brothers team would love to help you! We have a professional and reliable crew of Tampa movers who are fully prepared to handle your transition and everything that comes with it.
Give us a call today at (813) 922-1528 for more info or complete the quote request form on this page to get a free moving estimate!