There are hundreds of retirement communities in Florida, but few compare to The Villages, the country's largest 55+ community with more than 70,000 homes across three counties in Central Florida. It's even the world's largest 55+ gated community with a total area larger than Manhattan and more than 115,000 residents. Around 20 people move into the community every day.
Frequently named as one of America's best retirement communities, The Villages is famous for its golf lifestyle. It's the world's largest single-site golf facilities with 54 golf courses including a putting course and executive and champion golf courses. Golf is truly a way of life here where everyone uses a golf cart to get around with designated golf cart parking at every business plus golf cart dealerships and service centers inside the community.
The Villages, FL golfing is free for life for residents – one of the biggest draws of the community. Of course, "free golf for life" comes with caveats and it isn't quite as free as it sounds.
Are you thinking about retiring in The Villages? One of the most important questions you may have is this: is it expensive to live in The Villages, Florida?
Interestingly, The Villages has its own guide to the cost of living in the community that you can see here. This information is also given to potential residents in a "Lifestyle Portfolio" which estimates The Villages cost of living at $758 to $1,159 per month. There are some glaring shortcomings to this estimate.
We'll delve into the cost of living in The Villages, FL and explore not only housing costs and utilities but expenses related to the golf lifestyle and amenities.
View this post on Instagram
The Villages, FL Cost of Living Index
How much does it cost to live in The Villages, FL? It's surprisingly affordable! The community has a cost of living index of 103, just marginally more expensive than Florida's cost of living and only 3% higher than the national average.
Healthcare and utilities are close to average for the U.S. and utilities are just 5% higher. Transportation is 16% cheaper than the national average and far more affordable than what the average Floridan pays for transportation. Why? Because residents have little reason to leave their community or own a car. The Villages offers a free shuttle and residents get around on golf carts.
The transportation savings are eaten up by a higher housing index. Homes in The Villages are about 16% more expensive than average for Florida.
There are other metrics from the Bureau of Labor Statistics you can look at to assess your cost of living. However, these metrics apply to the entire Southeast, not even the Orlando metro area.
The Consumer Price Index (CPI) tracks changes in the average prices consumers pay for certain goods and services in a region or metro area. The Villages is in the Southeast region. Between August 2020 and 2021, the consumer price index for urban consumers in the South rose 5.6%. Energy prices rose 24.5%.
You can also check the Consumer Expenditure Survey. The average household in the Southeast spent $51,006 on annual expenditures compared to the U.S. average of $63,036. Here's a typical breakdown of living expenses in the Southeast:
Housing: $18,781
Transportation: $10,665
Food: $7,616
Personal insurance and pensions: $6,563
Healthcare: $4,982
Other items: $10,015
"*" indicates required fields
Looking For A New Home In The Area? Let Us Connect You With A Local Real Estate Professional.
We know a little about moving. A successful move starts early, having the right Real Estate team makes a big difference.
The Villages HOA Fees, Amenity Fees & Golf Fees
Living in The Villages retirement community comes with certain monthly or annual expenses you need to factor into your cost of living. These fees are mostly mandatory (except golf fees) and pay for the golf courses, recreation, and other amenities that make The Villages so popular.
What Are the HOA fees at The Villages?
The Villages doesn't have an HOA and technically there are no HOA fees. Instead, residents pay CDD fees.
According to The Villages, average CDD assessments (including the bond, maintenance fee, and fire protection) range from $129 to $220 per month.
A Community Development District (CDD) is a governmental unit that serves a community's long-term needs. Residents are provided services such as security, recreation, wastewater and sewer management, streetlights, and common area maintenance. Property owners within a CDD in The Villages pay a non-ad valorem assessment which is included on the annual property tax bill.
When you are buying a home, the CDD fee will be included with the total tax amount you see in public records.
These CDD fees are often confused with HOA fees in The Villages, Florida. The difference? HOA fees are ongoing, but CDD fees are actually made up of two parts:
The bond which pays for the infrastructure (infrastructure assessment)
Ongoing upkeep or maintenance fees (maintenance assessment)
View this post on Instagram
The CDD bond usually has a 15- or 30-year term. The total cost of the bond to build infrastructure is calculated and divided by each assessable acre.
You can either pay the CDD bond in full when you buy a home or pay it in annual installments with your property taxes. You may even see resale homes in The Villages advertised as "bond paid." If you buy a home with no bond, you'll still need to pay the ongoing CDD maintenance assessment.
The vast majority of The Villages is within a CDD. The exception? The Lake County or Lady Lake area which has about 5,700 homes. There are no CDD bonds in Lake County. This area is not in a CDD and it's instead governed by the Village Center Community Development District (VCCDC).
How much is the bond at The Villages?
The bond ranges from several thousand to $23,000. The older the home you are buying, the lower the bond – if it hasn't been paid off already. Because the bond is based on the number of homes in the CDD and your acreage, the more homes, the lower the bond. Villas pay less than premier homes, for example.
How much is the CDD maintenance fee? It varies from year to year. You can think of maintenance assessments as The Villages HOA fees: all residents pay them to maintain the common areas and amenities, and they are based on the annual budget.
What Is The Villages Amenity Fee?
One of the biggest draws of The Villages, FL retirement community is its golf courses and recreation. All residents or "Villagers" pay a monthly amenity fee of $164.
The amenity fee covers:
Free golf on 42 executive courses
Over 80 outdoor and indoor recreation facilities
Swimming, bocce, tennis, and pickleball
Dog parks, fishing, nature trails, and park
3,000+ clubs
24-hour neighborhood watch
As a resident, you are automatically a member at all of the community's country club facilities without paying additional dues or minimums.
The amenity fee isn't set in stone. Every year on your anniversary as a Villager, your amenity fee is adjusted up or down based on the year-over-year Consumer Price Index (CPI). There was previously a $155 cap on The Villages monthly amenity fee, but the fee is now index-based.
Golf Fees in The Villages
While The Villages advertises unlimited free golf for life as a resident – and it's true – there are still golf fees. This includes The Villages, Florida golf fees if you want to play Championship golf courses and a fee to drive your own cart. The alternative? Either walking or paying for a golf cart rental.
Trail fee. The Villages golf trail fee must be paid to use your own golf cart on trails on the executive courses. The household trail fee is $20/month, $106/six months, or $141/year.
Championship golf course rates. Villages automatically pay the Resident Member rate of $15 to $45 based on the course and tee time.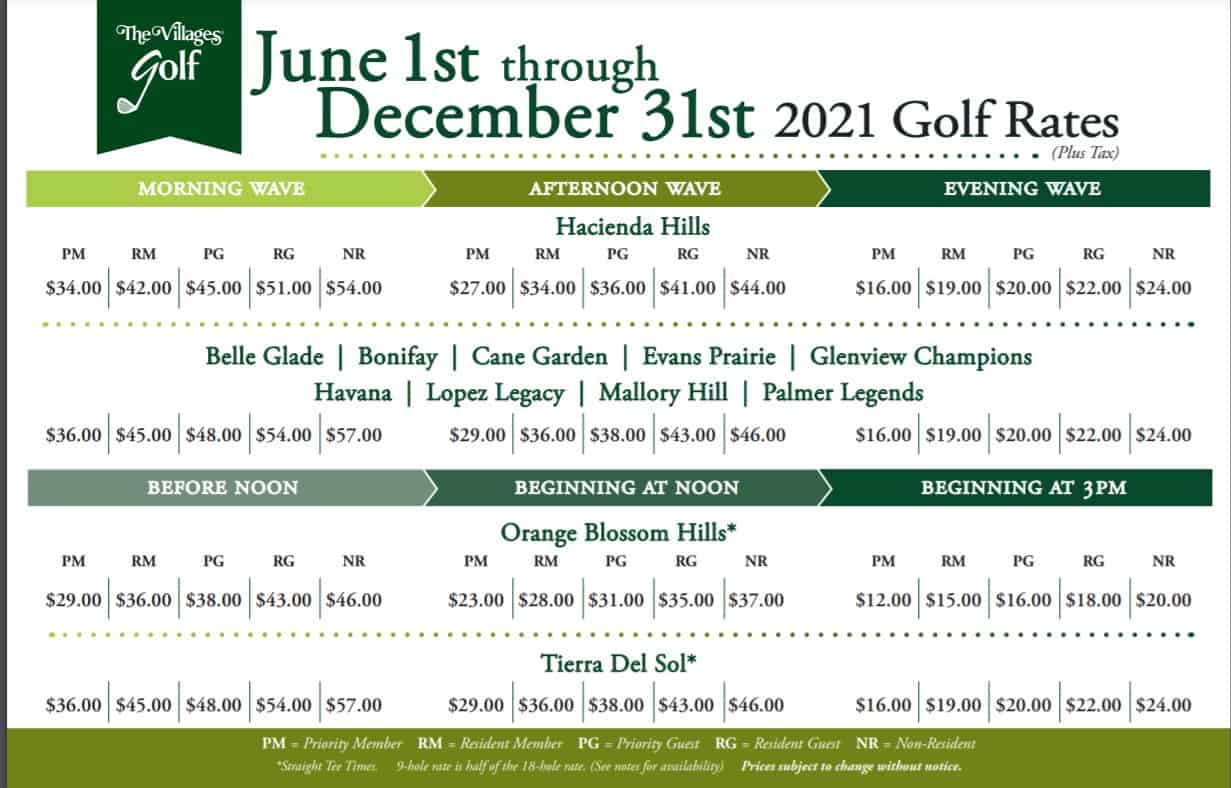 Cost of Groceries, Food, Gas & Household Items in The Villages
Understanding The Villages cost of living goes beyond CDD or "HOA" fees, amenity fees. You'll also want to look at the average prices for common items. The cost of most household items and utilities is comparable to Greater Orlando.
Cost of items in The Villages, FL:
Steak (ribeye, one pound): $10.82
Milk (half-gallon): $2.49
Eggs (one dozen): $1.71
Potatoes (five-pound bag): $3.29
Bread (one loaf): $3.15
Beer (Heineken six-pack): $9.87
Pizza (large, one topping): $9.99
Movie ticket (first run): $11.48
Average cell phone bill: $182.73
Average utility bill: $158.17
Average water bill: $38
Cable/satellite TV, high-speed internet, and home phone: $160
Here are some additional living expenses you may have that are specific to The Villages.
Termite bond: $125/year (optional for new homes after treatment)
The Villages, FL guest passes for golf: $7-11
The Villages Florida Daily Sun newspaper: $60/year
TheVillages.net: $8/month (to get golf tee times online)
VHA membership:
Villages Florida Homeowners Association (VHA) membership: $15/2 years (optional)
Property Owners Association (POA): $10/year (optional)
House watching service for seasonal residents: $50/month
You'll almost certainly buy a golf cart as soon as you move into The Villages. Expect to pay anywhere from $2,000 to $20,000 depending on whether you get a used or new cart. Golf cart insurance ranges from $60 to $200 per year.
View this post on Instagram
The Villages, FL Real Estate Market
For most people, housing is the biggest cost to live in The Villages. What is the cost of housing in The Villages, FL? You'll find everything from manufactured homes under $100k to luxury homes over $1 million. The average price of a home is $347,500. Homes sell in just 6 days on average with almost 47% of homes selling above list price.
There's a huge variety of housing options including premier homes, designer homes, cottages, verandas, courtyard villas, bungalow villas, and patio villas. You can choose to buy a new home or a resale home.
Buying a home in The Villages is different than most places because the developer has a great deal of control. If you buy a new home, you must go through a developer and you will need to pay for your own real estate agent, if you choose to use one.
Buying resale can save you a significant amount of money, in part because the CDD bond may be partially or completely paid off already. The Villages developer has a resale arm that controls about 60% of the resale inventory. If you buy resale from the developer, you will still need to pay for your agent's fee.
Only about 30-40% of resale homes are listed by agents on the MLS. Buying these homes works much like buying a home anywhere else. You can see The Villages, FL homes for sale here to see the current inventory of resale homes on the MLS.
Interested in new or resale homes through the developer? You can find them here. The Villages home prices for new homes range from under $200k for patio villas and cottages with less than 1,000 square feet to more than $800k for designer homes with more than 2,500 square feet.
Looking for The Villages, FL condos for sale? You'll want to look at The Villas of Spanish Springs and a handful of other condo or villa communities. There are a few condo communities like this one with condo fees (usually around $300-$400 per month).
If you want to make yourself a part of any of these communities, you should check out the latest listings for homes for sale in Largo, FL or let us introduce you to a local agent in the area.
The Villages Rental Market – Average Rent in The Villages, FL
Most people own their home in The Villages, Florida. Can you rent? How much does it cost to rent in The Villages, Florida?
Renting is actually very popular with many options. Because about half of people living in The Villages are seasonal or part-time residents, renting can be a good choice. You'll find The Villages, FL seasonal rentals and home rentals with furnished or unfurnished options.
The Villages Hometown Property Management is the only rental company in the community and the developer's rental arm. You can view listings for unfurnished and furnished:
Premier homes
Designer homes
Cottage homes
Ranch homes
Verandas
Designer villas
Courtyard villas
Patio villas
Manufactured homes
You can sort rental properties by village within the community and whether pets are allowed or not. Listings are detailed with the date the home was built, square footage, and even the home model.
The rental company offers vacation or seasonal rentals. They're ideal for giving guests a place to stay within the community or if you're interested in seasonal living in The Villages.
You choose how long you want to stay. Rent is based on the season with weekly and monthly rates. The Villages, FL rentals start at $500 to $1,100 per week or $1,500 to $3,300 per month. Winter is the most expensive time to rent in The Villages.
Another option is The Lofts at Brownwood. The Villages offers apartment-style living at Brownwood Paddock Square for all the amenities of The Villages with the convenience of renting. Private lofts have one, two, or three bedrooms with monthly rent, utilities, and the amenity fee.
The Villages, FL average rent at The Lofts at Brownwood:
One-bedroom: $1,350 to $1,695
Two-bedroom: $1,705 to $2,135
Three-bedroom: $2,710
Looking for other long-term rentals in The Villages, FL outside of apartments? There are several resources for finding homes for rent from private homeowners. Renting in The Villages is so popular, there are several websites specifically for the community!
GET CONNECTED TO A LOCAL REAL ESTATE PROFESSIONAL
Income, Sales & Property Taxes in The Villages, FL
Taxes are a big part of the cost of living in The Villages, Florida. Here's what you can expect.
Florida Income Tax Rate
Good news: Florida has no income tax!
The Villages, FL Sales Tax
The Villages sales tax rate is 7% which includes the 6.0% Florida sales tax and the 1.0% sales tax in Sumter, Lake, and Marion counties.
The Villages, FL Property Taxes
The Villages is located in three counties with different property tax rates. Make sure you check which county you will be living in! Sumter County, which covers most of The Villages, has the lowest property tax rate of $13 per $1,000 in assessed value. This assumes you are a full-time resident and qualify for the homestead exemption. The property tax rate in Lake County is much higher: $18 per $1,000 in assessed value.
Now that you have a good understanding of The Villages cost of living, are you prepared for luxury retirement living, free golfing, and everything you could want just a golf cart ride away? Call 2 College Brothers today for a free moving quote once you've settled on the right village so we can help you settle in without the stress and hard work.