The unincorporated community of Palm Harbor, FL has seen tremendous growth over the past 30+ years as it has become one of the most popular places to live near Tampa. Located between the Gulf of Mexico and Lake Tarpon, people living in Palm Harbor enjoy water views in both east and west.
Only about 9 miles away from the city of Clearwater and some of the best beaches in the world, more people are moving to Palm Harbor as an affordable alternative that still offers easy access to these perks. Check out all the details below that you'll want to know about what it's like to live in this great area!
1. People of Palm Harbor, FL – Population & Demographics
Since the mid-1980s when there were less than 5,000 people living in this area, the Palm Harbor population has seen explosive growth as it's risen to 61,553 people. The median age is about 50 years old with a decent balance between young families to retirees calling this town home. Palm Harbor demographics show a fairly average level of diversity with about 86% of the population being Caucasian, 7% Hispanic or Latino, 2.5% Asian, and 2.5% of an African American background.
With a fairly even gender split of people living in Palm Harbor, about 52.2% are female and 47.8% male.
"*" indicates required fields
Looking For A New Home In The Area? Let Us Connect You With A Local Real Estate Professional.
We know a little about moving. A successful move starts early, having the right Real Estate team makes a big difference.
2. Things to Do & Restaurants in Palm Harbor
Do you want to make sure there are fun things to do in Palm Harbor before moving there? Don't miss out on the Suncoast Primate Sanctuary Foundation, where you'll be able to see a wide variety of orangutans, chimpanzees, capuchins, baboons, spider monkeys, and more. The sanctuary is also home to birds like parrots, cockatoos, and macaws, along with reptiles such as snakes, tortoises, turtles, and alligators.
Another fun place where both adults and children will enjoy spending a day out is John Chesnut Senior Park. Offering a large green space and lake, you can enjoy picnics, softball fields, horseshoe pits, children's playgrounds, a dog park, and more.
Suncoast Primate Sanctuary Foundation, Inc.
View this post on Instagram

Suncoast Primate Sanctuary Foundation, Inc., 4600 US-19 ALT, Palm Harbor, FL 34683
View this post on Instagram

John Chesnut Senior Park, 2200 E Lake Rd S, Palm Harbor, FL 34685
With great places to eat all over town, one of the best restaurants in Palm Harbor is the Ozona Blue Grilling Company. Located right along the waterfront, diners can feast on seafood dishes, pastas, grilled fish, flatbread sandwiches, and other delicious options. Another popular Palm Harbor restaurant not far from there is The Ozona Pig, a Southern-style Bar-B-Q joint with combo platters of ribs, roasted BBQ chicken, pulled pork, and brisket.
View this post on Instagram

Ozona Blue Grilling Company, 125 Orange St, Palm Harbor, FL 34683
View this post on Instagram

The Ozona Pig, 311 Orange St N, Palm Harbor, FL 34683
3. Palm Harbor Cost of Living
The cost of living in Palm Harbor is only 8% higher than the United States average, making it an affordable option for people who want to live in Florida. One thing that does cause that percentage to spike a bit is the housing costs in the area's real estate market.
Looking through Palm Harbor, FL homes for sale, you'll see lots of options ranging from small condos to large, single-family houses. Currently, the average price of a home in Palm Harbor is $280,600, which has increased by 6.6% since this time last year. Projections show an additional anticipated 4.8% rise over the next 12 months as well.
About one-third of people living in Palm Harbor rent or lease their living spaces, making it a viable option for those who may not be ready to purchase a home yet. The average price of rent in Palm Harbor for a one-bedroom is about $1,053 per month, while a four-bedroom home will cost closer to $2,204 per month.
If you want to make yourself a part of any of these communities, you should check out the latest listings for homes for sale in Largo, FL or let us introduce you to a local agent in the area.
4. Comfortable Neighborhoods in Palm Harbor
Covering more than 26 square miles, Palm Harbor neighborhoods offer safe living with great views and tight knit communities. There are numerous possibilities all over town, depending on your location preference, your family dynamic, and your lifestyle. Some of the best neighborhoods in Palm Harbor are Crystal Beach, Baywood Village on the northwest edge of town, Ozona on the southwest side, Cobbs Landing on the eastern border along Lake Tarpon, and Beacon Groves at the center of town.
Palm Harbor is near the top of Pinellas County and spans the zip codes of 34681, 34683, 34684, 34685, 34689, and 34698. Expect a 727 area code if you're planning on updating your phone number locally.
No matter where you end up, you'll also have convenient places to shop in Palm Harbor such as Walmart Neighborhood Market, Sprouts, Seabreeze Plaza Shopping Center, Publix Super Market, and Crystal Beach Plaza.
5. The Palm Harbor School System
While the Pinellas County School District that covers this area serves more than 104,000 students, only about 7,446 of them are living in Palm Harbor. Making up about 12% of the city's population, these students get a solid education from the local campuses around town. Some of the best Palm Harbor schools are Cypress Woods Elementary, Sutherland Elementary, Plato Academy Palm Harbor Charter School, Joseph L. Carwise Middle School, and Palm Harbor University High.
Are you a college student thinking about moving to Palm Harbor? This area may not be the best for these individuals as the nearest secondary school is the University of Tampa, which is more than half an hour away in Tampa.
6. Palm Harbor Job Opportunities
Anyone looking up jobs in Palm Harbor will find a heavy emphasis on manufacturing as the largest industry across the city. The Palm Harbor median household income of $55,145 is lower than the national average as the majority of employers are smaller companies that are trying to grow and expand.
A few of the top Palm Harbor jobs can be found with companies like Geographic Solutions, FreightCenter, the David Nelson Construction Company, and the Winn Technology Group.
Some locals also choose to commute from Palm Harbor, FL to Tampa, which is less than 24 miles away and offers many more job opportunities.
7. Tropical Weather in Palm Harbor, FL
Some of the best things to do outside in Palm Harbor like Wall Springs Park as well as Honeymoon Island State Park can be experienced all year round thanks to this area's tropical climate.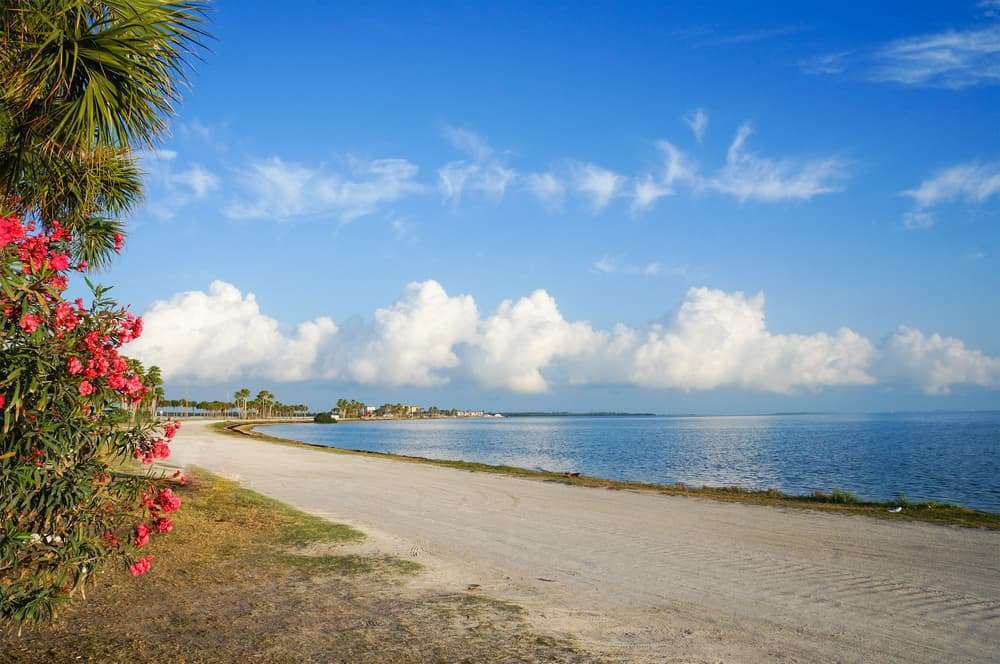 Even though Palm Harbor weather has a wet season that drops about 51 inches of rain annually, the overall setting is enjoyable and clear more often than not. Winters are cool and partly cloudy with temperatures in the range of the mid-50s and upper 60s. But summers are exactly what you envision for a Florida climate with sunny skies and temps between the 70s and 80s most of the year.
GET CONNECTED TO A LOCAL REAL ESTATE PROFESSIONAL
Tips for Moving to Palm Harbor
Locals living in Palm Harbor enjoy easy access to other great cities like Clearwater and Tampa.
You'll also find plenty of fun things to do and places to eat right here in town.
Palm Harbor is an affordable option compared to some other suburbs nearby.
Move to any of the conveniently located neighborhoods next to great schools and good local jobs.
Get your shorts and flip-flops ready to wear almost all year long thanks to the amazing Palm Harbor weather.
There is something for everyone who is planning on moving to Palm Harbor. The envious Florida climate alone is enough to convince just about anyone that this is the place for them. From the fun local activities to the family-friendly neighborhoods, it's no wonder why people love living in Palm Harbor.
Do you need help from the best team of Palm Harbor movers to assist with your upcoming relocation? Get in touch with 2 College Brothers today by calling us at (813) 922-1528 or fill out the Request a Quote form on this page for a free Palm Harbor moving estimate!