Are you moving to Wekiwa Springs? The town is a rural, census-designated place in central Florida surrounded by nature. The name Wekiwa is Seminole for "a spring". The town is best known for the Wekiwa Springs, which are part of the Wekiwa Springs State Park. The springs became a tourist attraction after they were discovered in the 1860s, where you can see manatees and camp overnight. 
Where Is Wekiwa Springs?
Wekiwa Springs is located in Seminole County, alongside the Wekiwa Springs State Park, and is part of the Orlando–Kissimmee–Sanford Metropolitan Area. Nearby towns include Altamonte Springs, Longwood, and Heathrow. Wekiwa Springs is about 14 miles north of Orlando.
Wekiwa Springs Population & Demographics
Wekiwa Springs has a population of 23,428 per the 2020 census, which is a 6% increase from the 2010 census. The population density is 2,727.99 per square mile.
Wekiwa Springs Demographics:
Females 53.1%, males 46.9
Median age – 46.2
Racial and ethnic composition
White (Non-Hispanic): 78.4%
White (Hispanic): 10.4%
Asian (Non-Hispanic): 2.85%
Other (Hispanic): 2.53%
Black or African American (Non-Hispanic): 2.42%
Median household income –  $97,156 (the state average is $61,777)
Educational attainment
High school graduate or higher: 97.6%
Bachelor's degree or higher: 53.3%
Foreign-born population – 11.2%
Is Wekiwa Springs FL Safe?
Wekiwa Springs is a safe place to live. The crime rate in Wekiwa Springs is 43% lower than the national average, while the violent crime rate is 38% lower. Crime in Wekiwa Springs has decreased by 15% year over year. The Seminole County Sheriff's Office serves the residents of Wekiwa Springs.
Things to Do in Wekiwa Springs FL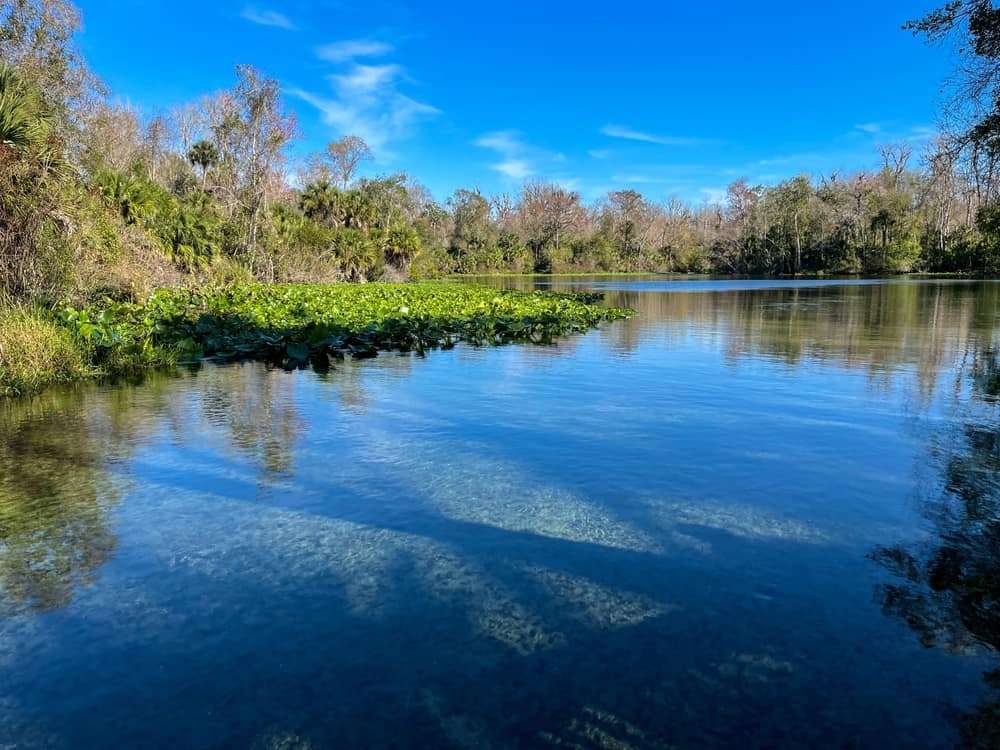 You'll find activities to do and things to see for the whole family in Wekiwa Springs. Altamonte Mall in Altamonte Springs, FL, and Colonial Town Park in Mary, FL are excellent nearby shopping centers. Here are some of the best things to do near Wekiwa Springs.
The Wekiwa Springs was a major tourist attraction in Florida in the early 1900s. The springs feed the Wekiwa River that runs through the park. The park offers a wide range of activities, an abundance of wildlife, hiking and biking trails, horseback riding, and canoeing or kayaking. This is the best spot for Wekiwa Springs camping too.
Wekiwa Springs State Park, 1800 Wekiwa Cir, Apopka, FL 32712, (407) 553-4383
Wekiva Island in nearby Longwood, FL is an indoor/outdoor recreation complex with kayaking, canoeing, and paddleboarding around the island. Stroll along the scenic boardwalk or take a dip in the refreshing water. The island includes a bar, food truck, and a general store where you can get essentials and souvenirs.
Wekiva Island, 1014 Miami Springs Drive, Longwood, FL 32779, 407-862-1500
The Avian Reconditioning Center is a bird of prey rehabilitation facility in nearby Apopka, FL, dedicated to raptor rehabilitation, education, and research. Their goal is to provide the birds with a realistic chance of returning to the wild and surviving. This is one of the best things to do in Wekiwa Springs with kids.
Avian Reconditioning Center, 323 Lester Road, Apopka, Florida 32712, 407-461-1056
 Additional attractions in Wekiwa Springs
Wekiwa Springs Restaurants
There are a variety of restaurants near Wekiwa Springs in Altamonte Springs, Longwood, and Apopka less than 10 minutes away. Here are two of the best restaurants near Wekiwa Springs. 
Located in Altamonte Springs, Metro Diner is a classic diner that serves up homestyle comfort food and breakfast all day. They've won numerous Florida newspaper and magazine polls for "Best Breakfast" and "Best Diner" over the years. Some of the specialties include Fried Chicken & Waffles and Iron City Meatloaf. Guy Fieri visited Metro diner for an episode of Diners Drive-Ins and Dives!
Metro Diner, 985 N. State Road 434, Altamonte Springs, FL 32714, 407-917-8997
The Back Room Steakhouse offers a high-end dining experience with unparalleled personalized service. They use only aged Black Angus steaks, fresh seafood, classic pasta dishes, unique appetizers, and delicious desserts made in-house. The Back Room uses only the finest of ingredients and offers an impressive selection of fine wines, craft beers, cocktails, and spirits.
The Back Room Steak House, 1418 Rock Springs Road, Apopka, Fl 32712, 407-880-7832
Average Rent & Homes for Sale in Wekiwa Springs
The average rent in Wekiwa Springs is $1,982, and the average size of an apartment is 1,240 square feet. By comparison, rents in Orlando average $1,933 for 962 square feet. There are only a few apartment complexes in Wekiwa Springs, but you can find more close by in Altamonte Springs and Longwood. Most rentals are for apartment communities, but you can find a home for rent from time to time. Most people in Wekiwa Springs own their homes. The homeowner rate is 77%.
In March 2023, home prices in Wekiwa Springs were up 0.6% compared to last year, and the median price of a home in Wekiwa Springs is $430K. Homes in Wekiwa Springs sell after about 13 days on the market compared to 22 days last year. Check out homes for sale in Wekiwa Springs.
Jobs in Wekiwa Springs
Many people living in Wekiwa Springs commute to Orlando for work. The average salary in Wekiwa Springs is $54,022.  The largest industries in Wekiwa Springs are Health Care & Social Assistance, Professional, Scientific, & Technical Services, and Retail Trade. The top employers in Seminole County are Seminole County Public Schools, Seminole State College of Florida, and Seminole County Sheriff's Office.
Wekiwa Springs Schools
Wekiwa Springs is served by the Seminole County School District. There is 1 elementary school and 1 high school in Wekiwa Springs. The closest middle school is 5 miles away in Longwood.
The closest college to Wekiwa Springs is City College Altamonte Springs in Altamonte Springs. The top rated college in the area is Embry Riddle Aeronautical University in Daytona Beach. The largest college in the area is University of Central Florida in Orlando, with 70,310 students. 
Wekiwa Springs Statistics & Information
County: Seminole
Area: 9.13 sq mi
City zip code: 32712
City area code: 407
Elevation: 49 ft
Time zone: EST
Closest airport to CITY: Orlando Sanford International Airport (SFB), 16 miles away
Wekiwa Springs, FL Map
If you're ready to make your move to Wekiwa Springs, 2 College Brothers is here to help. We have the expertise and experience to make your move stress-free. Call us today at 813-922-1529 for your free moving quote!